22 Mei
2010 / 90m - Belgium
Drama, Mystery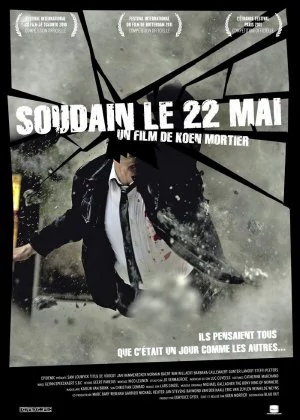 A couple of years ago several new talents took the stage in the Flemish film scene. Films like Ex Drummer, Small Gods and Dirty Mind launched a new image for our movie industry, even landing us some international attention on foreign film fests. It's not just a passing hype either, as proven by Koen Mortier's second feature-length film. 22nd of May [22 Mei] turned into a challenging and stunning piece of cinema.

Mortier had to fight long and hard to get his first film made. Ex Drummer might be a book adaptation, but Mortier's vision was just too strong and relentless for companies to simply shell out some quick cash and a carte blanche handshake. The film became an international cult success though and Mortier was given the even more difficult task to treat his newfound fans to an even better sophomore picture. This time around he didn't rely on a book or scriptwriter but sat himself down to write his own personal film. The result is admirable.
Fans of Ex Drummer should note that the crude and harsh humor of Mortier's first film is completely gone. 22nd of May is a bitter drama with little room for happy tree hugging thoughts. And even though at first glance the comedy in Ex Drummer appears to be a big part of Mortier's unique style, his strengths seem to lie elsewhere as it isn't missed in the least here.
22nd of May doesn't really focus on a narrative, rather it explores the feelings of Sam following a tragic event. Sam is an emotionally numb middle-aged man who works in a small mall as a security guard. When one day a young boy walks in and blows the entire place to hell Sam survives the blast and jumps back in to rescue the remaining people inside. Halfway through he crashes and escapes, leaving a bucket load of roaring emotions behind. Throughout the film he meets figments of the people he left in the mall, trying to come to terms with what happened on his watch.

Mortier's visual style is bitter and dreary, but still beautiful in all its ugliness. The film opens with a four-minute tracking shot illustrating the sad conditions of Sam's everyday life. The visual style is not as extrovert as it was in Ex Drummer but Mortier keeps a few scenes where he can flex his muscles. Namely, the explosion is superbly shot, a mess of debris, dust and fire crushing everything in its path. Use of lighting is also quite unique and very atmospheric.
The soundtrack is just as dark and tense as the visuals. Guitar ambient that runs through most of the scenes and aids in translating the depressive atmosphere to the audience. It's good to see Mortier has a good sense of the importance music can have on a film's overall feel, something most directors don't even seem to realize. The only critique I have is that Mortier could've added a bit more variation to the soundtrack, but that's just a minor detail.
Acting is strong too. Each character is given the actor's name and all of them speak in their native dialect. Which means that even if you understand Dutch, it's still good to watch this one with subtitles on. Flemish dialects can be pretty crude and juicy. Even I had problems understanding some bits here and there (the Brussels' dialect in particular is quite hard to follow). And if Sam Louwyck performance doesn't earn him at least some honorable mentions I'm not sure what he could be doing better.

While the structure of 22nd of May is quite abstract and void of any clear narrative, it's still quite straightforward in its symbolism. Mortier's vision is clear-cut and quite easy to follow, though that doesn't make his film any more accessible. The atmosphere is really down-beat and grim, the pacing slow and the lack of real narrative will be quite a hurdle for most.
All of this makes that the film packs quite a punch, at the same time it alienates a large portion of its audience. There were only eight people at the screening we attended, two of them left before the first half of the film was through. Other resources seem to confirm this has been happening at other screenings of the film. It's a real shame because even though the film bears a down-beat atmosphere, the execution is near flawless and the result all the more impressive for it.
I just hope the poor reception won't hinder Mortier in his next project. The man deserves to keep on filming and to grow as a filmmaker. 22nd of May shows definite progression, revealing a powerful and unique style that left me pretty dazzled. It's the kind of film that makes me love my hobby. I wouldn't be surprised if he could join the greats like Gaspar Noé or Grandrieux in a couple of films time. Until that, I'll try to support his work as much as possible.