Mitsu no Aware
2016 / 105m - Japan
Drama, Fantasy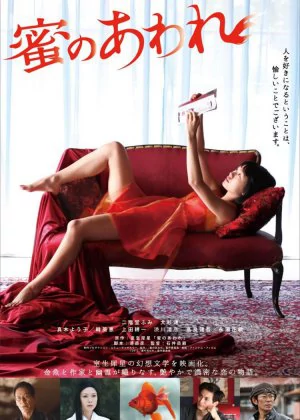 If you figured That's It was Gakuryu Ishii's definite return to punk cinema, you were dead wrong. Bitter Honey [Misu no Aware] is Ishii's latest and couldn't be further removed from the gritty black and white punk cinema that made his former persona famous. But don't worry, Bitter Honey isn't just any random film that could've been made by any random director. Brace yourself for a weird, genre-defying mix of fantasy, drama and comedy, brought to you by one of Japan's most disregarded maverick directors.

Bitter Honey is Gakuryu Ishii's fourth post-Sogo film. By now it's clear that Ishii didn't launch his name change to break with his punk background entirely, rather he used it as a way to start over with a clean slate. Even as Sogo, Ishii never restricted himself to punk cinema, but his name had become a punk cinema brand, which just didn't do his entire body of work justice. As Gakuryu, a film like Bitter Honey doesn't feel like an unusual outlier anymore, instead it's exemplary for the breath of styles and genres Ishii works in.
Biopics are a pretty established genre, but when Japan honors its (sometimes fictional) writers in film, things tend to get a little odd. From the animated Spring & Chaos to the curious The Mystery of Rampo and Kumakiri's gritty The End of Summer, Japan loves to sell its writers as strange, reclusive and not quite stable individuals. Ishii's Bitter Honey fits right in with its peers, as it's based on Muro Saisei's '59 novel about an old writer and his imaginative post-peak life.
The film follows a lauded writer at the end of his career. His best days are behind him, besides giving the occasional lecture for young aspiring writers his social life has come to a virtual standstill. But he has a secret, namely a goldfish turned human who lives in with him. He is quite protective of the girl and for a while they live happily together. Until one day, one of the writer's old flames finds her way back to him. She turns his life upside down, not in the least because she died a very long time ago.

Ishii's punk aesthetic is completely absent here, but that doesn't mean Bitter Honey looks plain, dull or predictable. Maybe not as adventurous as some of Ishii's more experimental films, but exquisite use of color and lighting, lively camera work and a couple of perfectly framed shots give the film a very stylish, rich look. With small touches and minor details, Ishii is able to craft a mysterious, fantastical, not-quite normal film reality. The cinematography plays an essential part in that.
So does the score of course. Again, there are no screaming guitars (or screaming Asanos) that refer to Ishii's punk background, but the film is brimming with fun little sound effects and musical bits that bring the fantasy to life. The actual music too is never superfluous or random, whenever music is used it always adds to the atmosphere and helps to carry part of the weight of the scene. Music is clearly part of Ishii's DNA, and he's a better director for it.
Fumi Nikaido is the star of the film. She's still young, but it wouldn't be fair to call her an up and coming talent. With lead credits given by directors like Sono (Why Don't You Play in Hell?), Kumakiri (My Man and Nakashima (The World of Kanako), Nikaido is one of the prime talents of Japanese cinema. So was Ren Osugi of course, who unfortunately passed away earlier this year. Osugi was a constant in the past 30 years of Japanese cinema, an actor who always appeared docile and trusting, but who could play a mean pervert or weirdo if needed. Bitter Honey isn't his swan song, he was still very active, even until the very end, but it's one of his last lead roles and one that does his entire career justice.

Bitter Honey is more than just a little odd. There are serious themes underlying the film, but the presentation is light-hearted, frivolous and almost child-like at times. Ishii uses fantasy elements to create a pleasant, surrealistic world, but at the same time there's a darker vibe that prevents you from leaning back and taking the film at face value. Best of all though, Bitter Honey is a film that defies comparison, a film that keeps you guessing and leaves you perplexed at what you've just seen.
This is a film unlike anything Gakuryu Ishii has done, at the same time it's also a film that couldn't have been made by anybody else but Ishii. It's lush looking, very well acted, aptly scored and surprising at every turn. It's quirky and giddy, but at the same time it's also dark, brooding and lingering. No matter what he calls himself, Gakuryu Ishii is an extremely talented director, an internationally overlooked and underrated gem of Japanese cinema. Make sure you don't miss out on his films, if you can get to them that is.