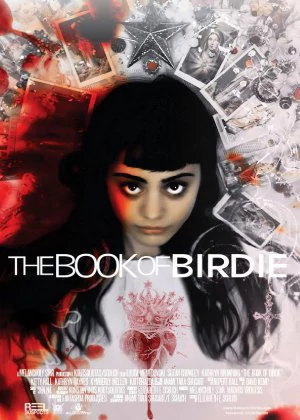 Elizabeth E. Schuch's The Book of Birdie is my favorite kind of discovery. It's a film that came out of nowhere, built up expectations with very little (one poster and screenshot was all it took) and easily exceeded those expectations while watching. The Book of Birdie is that specific type of uncomfortable auteur/genre blend I love to love, and the film delivers in spades. It's probably not the biggest people pleaser out there, but it sure is worth taking a little gamble.

These past couple of years a lot has been said and written about the lack of female directors, but disappointingly few films have been able to make a good case on why this is so problematic (at least, from an audience's perspective). While Hollywood is hard at work trying to prove that female directors can be just as profitable as their male counterparts, genre and indie cinema has been underlining the differentiating qualities of female directors. A film like The Book of Birdie exemplifies that, showing people that they're actually missing out on unique experiences when women aren't given a proper chance to direct.
I'm not advocating some scientific divide between male and female directed films of course, but I do feel there are nuances that can give a firm indication about the gender of a director. And it's not just platitudes, like having an all-female cast or including more female-focused themes, it's the way themes and genres are handled and how focus is distributed between different elements of a film. The Book of Birdie manages to balance drama, fantasy and horror in such a way that the different genres are always present in some way or another. Innocent and almost ethereal moments are also unsettling and creepy, while the horror is never just visceral, but also has a certain depth and humanity to it. Bluntly said, men tend to be purer in their execution, women tend to be more ambiguous and undetermined. In that sense, this film reminded me of Lucile Hadzihalilovic's Innocence.
The story revolves around Birdie, a young girl who is enlisted in a small convent by her grandmother. At first, it's unclear what is wrong with her, but it's obvious that she carries a dark past with her which she needs to escape from. As she adjusts to life in the convent, more and more of Birdie's past is revealed, but instead of clearing things up the mystery only grows bigger. Birdie's only escape from the convent life is when she spends time with Julia, the caretaker's daughter who tends to the premise after her father fell ill.

Even though The Book of Birdie was self-funded, it looks absolutely stunning. With the help of cinematographer (and husband) Konstantinos Koutsoliotas, Schuch managed to establish a stylish, solemn and even dreamy atmosphere that perfectly supports the sometimes conflicting genres and emotions. Everything is tailored to perfection, from the moody lighting to the stark framing and the grungy use of color. Giving the visuals some extra panache are some charming chapter titles made to look like cardboard cutout animations.
I always appreciate a film with attention to presentation, but I get even more ecstatic when the soundtrack is made to play an equally important part as the visuals. The lo-fi electronic sound may not be the most original of choices for a film like this, but it is a great match. It's the way that Schuch integrates the music with the visuals though that makes it special. The soundtrack is not merely supportive, but often leading and essential in establishing that unique ambiguity that makes the film stand out from the rest. The Book of Birdie makes an excellent case for giving music a more prominent place in film.
Acting-wise, Schuch got really lucky she bumped into Ilirida Memedovski. It's the first ever role for Memedovski, but she did a tremendous job. She has the perfect look and flair for the part, having this dark and gloomy presence while still looking very pristine and innocent. She also looks a bit like Audrey Tautou in Amélie (which I'm sure was on purpose), which completes the picture. The rest of the cast is good too, but they are eclipsed by the central performance.

While watching The Book of Birdie, I was reminded of a myriad of other films. There's the main character's resemblance to Tautou, there's the atmospheric ambiguity of Innocence, there are traces of Oz Perkins' work and the setting reminded me a little of Laugier's House of Voices. But rather than a sign that the film lacks originality, these are mere indications that I was struggling to find a firm grip on the film. Even though a lot of references popped up, I wouldn't want to directly compare The Book of Birdie to any of these films, instead it stands well on its own while feeling fresh and different.
The Book of Birdie was a film that kept me guessing until the very end. Schuch introduces quite a few elements that seem to push the film in a certain direction (like the stigmata, the pagan influences), but ultimately remain unresolved. Not everyone will appreciate this lack of a clear resolution, but I love it when a director manages to maintain the mystery throughout the entire running time. While the ending was satisfactory and felt complete, it remains difficult to put into actual words what happened and how everything is tied together.
The Book of Birdie is a perfect debut, but since it's a 2017 film and seemingly missed out on the buzz it deserved, I fear Schuch is facing a tough road ahead if she wants to put out a second feature film. It's a real shame because we could use more films like this. The bemusing ambiguity, the constant mystery and the flawless presentation make The Book of Birdie into an intriguing film that stands well on its own and begs for validation. It's a film that deserves a warm and loving cult following, so if the opportunity presents itself make sure to give this film a fair chance.