A Chinese Ghost Story III
Sien Lui Yau Wan III: Do Do Do
1991 / 109m - Hong Kong
Action, Fantasy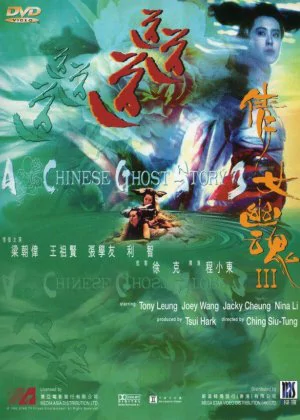 The Chinese Ghost Story franchise played a pivotal part in the build-up to 1993, a downright magical year in the history of Hong Kong cinema. Most people prefer the first two films in the franchise, my personal favorite has always been A Chinese Ghost Story 3 [Sien Lui Yau Wan III: Do Do Do]. It's not quite as structured as the first two, but its dedication to fun and entertainment is virtually unparalleled. It's been years since I last saw the film though, and I have to admit I had no more active recollections of it. Still, I felt quite excited to watch it again, as preceding rewatches showed these early 90s Hong Kong films to age remarkably well.

A Chinese Ghost Story certainly wasn't the first to mix fantasy and martial arts, but it was one of the earliest films to do so in that very specific style that would thrive during the early 90s. The rapid fire editing, the manic camera work, the mix of fast comedy, inventive martial arts action and old lore are all accounted for. While the first two Chinese Ghost Story films still tried to wrap themselves around a somewhat coherent plot, the third one let go completely. This is one of those films that was meant to be fun and frantic and didn't really care about anything else.
While there are very solid links to the first two films (both in plot and cast), in some ways A Chinese Ghost Story 3 feels more like a precursor to Hark Tsui's Green Snake. Hark acted as a producer here, and I wouldn't be surprised if he thought he could redo this third entry as a slightly classier, more elevated film. If you're familiar with Green Snake that should give you a pretty good idea what you can expect, though Siu-Tung Ching never quite reaches the same level of quality. He's more of a pure entertainment director, and it shows.
100 years after the Tree Spirit was locked away, he manages to free himself again and returns to pestering people who just happen to wander by. An abbot and his young disciple spend the night in an abandoned temple, the Tree Spirit sends Lotus, his most alluring ghost, to capture both men. The abbot feels something is wrong and sets out to scout the surroundings, the young disciple is left alone in the temple. He looks like easy prey for Lotus, but he's surprisingly serious about his vows. Even though Lotus doesn't get what she wants, an unlikely friendship starts to blossom between the two.

If you've seen a couple of these early 90s Hong Kong fantasy/action films, you should have a good idea of what to expect visually. There are quite a few night scenes (so blue's a prevalent color - with the usual bright reds for contrast), the editing and the camera work are extremely frantic, odd camera angles are the norm, the wire work action looks sublime, so do the costumes and the special effects have the right amount of kitsch to make up for any technical imperfections. It's not quite up there with the very best in the genre, but if you like this sort of thing you surely won't be disappointed.
The soundtrack is pretty decent. It's not exactly a landmark, not even for this type of film, but Ching looked beyond the usual Chinese background jingles to lend it some extra flair. The Canto-pop intro tune and the action music are pretty basic and forgettable, but the more intimate scenes between Joey Wang and Tony Leung offer slightly classier tunes that do their part in elevating the atmosphere of the film. It's not the kind of score you need to own, but it's a pleasant variation in a genre that usually cares very little about the soundtrack, so that's a plus.
Jacky Cheung, Joey Wang and Siu-Ming Lau all returned for this third installment, the only notable omission from the cast is Leslie Cheung. There's a slim chance you'll miss him though, as Tony Leung Chiu-Wai was happy to take his place. It's always a blast to see Tony Leung tackle a more comedic role, and he truly shines here. There's plenty of chemistry between Wang and Leung and while his part isn't as overtly funny as the one he played in The Eagle Shooting Heroes, his facial expressions and cool yet naive demeanor are sure to cause a few chuckles. The rest of the cast is pretty solid too, but it's clear Leung is the star here.

A Chinese Ghost Story 3 is mostly just more of the same. Once the setup is complete, it doesn't take a genius to figure out how the rest of the film is going to pan out. It's a core genre film that sticks to what is known to work, neatly delivers what the audience craves and doesn't needlessly get stuck in irrelevant diversions. That means it's probably going to appeal a little less to those who expect a more serious and/or accomplished feature, genre fans who are looking for a film that is fully dedicated to serving prime entertainment should brace themselves for a real treat.
These 90s Hong Kong films seem to have figured out the perfect balance of entertainment. They are built on quirky fantasy elements, lots of visual flair, a fun vibe and a light narrative. And if something doesn't work, the insane pacing makes sure you won't remember it for long. There's nothing serious or overworked about these films, except maybe their eagerness to please and amuse. A Chinese Ghost Story III dazzles from the opening scene all the way through. Watch the earlier films first if you haven't, they're also tons of fun, and they'll add a little extra context, but nothing beats the third one for me.