We Couldn't Become Adults
Bokutachi wa Minna Otona ni Narenakatta
2021 / 124m - Japan
Drama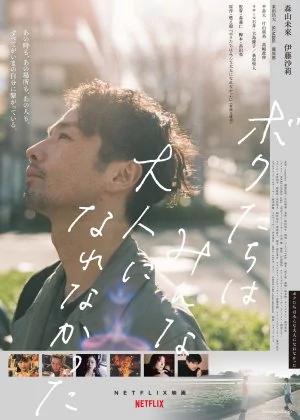 If there is one big perk about Netflix producing Japanese films, it's that we don't have to wait and pray to see them released in the West. Their output is little hit-and-miss, but with films like Hiroki's Ride or Die, Yamato's Hot Gimmick and Sono's The Forest of Love they have shown a keenness to attract talent beyond the pure mainstream. Yoshihiro Mori's We Couldn't Become Adults [Bokutachi wa Minna Otona ni Narenakatta] is a slightly more conventional Japanese drama with just enough unique touches and details to surprise even the most hardened fans of the genre.

Most Japanese dramas out there are about younger characters or very specific social phenomena. While there's certainly no lack of films in this particular niche and variety should come easy to them, they tend to stick to subjects that are safe and known to work. That's why We Couldn't Become Adults manages to stick out, these types of films rarely feature a run-of-the-mill middle-aged guy looking back at his rather pedestrian life. I certainly found it rather refreshing, maybe because I'm edging closer to the age of the lead character in this film. The older you get, the harder it becomes to relate to the average high school drama.
It's also interesting to see this story told backward. Films like Irreversible and Memento have offered similar setups, but for a purer drama it brings slightly different perks. The story is set up in reverse chronological order, meaning the depth and gravity of certain events are only revealed later on in the film, when we finally come to the source of the lead characters' dreams, hopes, and aspirations. It can come off a little gimmicky, but some seemingly throwaway moments really gained a lot of dramatic power in the latter half of the film, almost making me want to revisit the film right away.
Makoto Sato is 46, he's all alone and the pandemic is well underway, leaving him stranded. One night he bumps into an old pal, who isn't feeling too great about himself either. A short conversation between the two kicks off a long trip down memory lane, with Sato revisiting the memories of old friends and lovers, key moments in his life that guided his fate, and various influences that shaped his character. As he travels back in time and reflects on the choices he made and the many regrets he has, he hopes to find an answer for the state he finds himself in.

While most Japanese dramas seem to aim for a more natural, down-to-earth look, We Couldn't Become Adults prefers strongly polished cinematography. The camera work and framing are precise, the color work and lighting are exquisite, and every single shot feels well planned and thought out. The sets too look lovely and there are various dramatic climaxes that are strengthened by the visual splendor on display. It's not so grand or maximalist that it takes away from the drama and/or the narrative, but it's distinct enough to leave a clear and memorable impression.
The soundtrack mimics the qualities of the cinematography. It's a bit more explicit and contemporary than you'd expect from a Japanese drama, but not so much to overpower the rest of the film. There are some electronic influences that give it a more modern feel, and some interesting sound design choices that add a bit of extra push to the visual, but overall it's a score that won't surprise fans of the genre, nor put anyone off too much. It is still nice to see that Japanese directors are finally exploring beyond the usual piano/string melodies though, Mori deserves some kudos for that.
Mirai Moriyama was picked for the lead role and delivers one of his better performances to date. It's an actor with a peculiar physique who tends to stand out without doing anything in particular, but here he really digs into his role and delivers a character who is visibly struggling with the way his life panned out. The rest of the cast is very good too, but because of the nature of the film, most actors are only part of Moriyama's story for a short while and don't have too much time to really prove their worth. Overall the entire cast did great, even though there aren't that many big-name actors present.

With a reversed narrative, you're always going to have to put in a little extra effort to keep track of the story. The first 30 minutes can be a little disorienting, but from that point on the structure of the film starts paying off. People who prefer a more straightforward dramatic experience will wonder if it was worth the trouble (and I'm certain this would've been a fine film when presented chronologically), but being aware of the fact that the lead character is looking back at his life does reinforce the main theme of the film. The little extra complexity is a small price to pay and shouldn't hinder seasoned film fans in the slightest.
We Couldn't Become Adults is a modern Japanese drama, a film that would make a nice double bill with Hajime Tsuda's Daughters. These are films that aren't reinventing the genre but are adding contemporary touches and distinctive details to set themselves apart from the more traditional films. The polished cinematography, the moody score, and a superb lead performance bring validity and depth to a central theme that isn't featured all that often in Japanese cinema. Yoshihiro Mori made his mark with this film, I'm looking forward to seeing where he goes from here.