G Saat
2018 / 105m - Hong Kong
Crime, Drama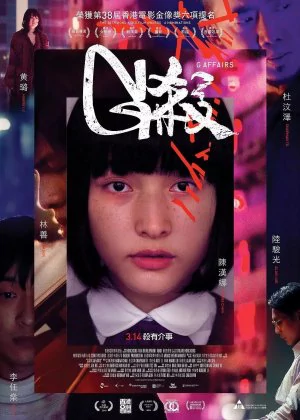 The Hong Kong movie industry prefers familiarity to experimentation and rejuvenation, but once in a while a director pops up who isn't content with merely sticking to conventions. Cheuk Pan Lee seems to fit that description, his debut feature G Affairs [G Saat] can't be boxed into a convenient genre, colors wildly outside the lines and faces its Category III rating head on. Lee immediately bombarded himself as one of the most promising young Hong Kong directors, but international attention for G Affairs has been rather tepid. Let's hope I can do my share to turn this around.

The future of Hong Kong cinema is uncertain, now that China is tightening its grip on the city-state. Not only did Hong Kong see most of its talent migrate to the Mainland, chasing bigger budgets, a newly installed censor could seriously hamper the production of films like G Affairs. While it's certainly not the most shocking film for Western audiences, Hong Kong categorization has always been quite strict to begin with, the extra level of censorship isn't going to make things easier. Subjects like underage sex, corrupt cops and failing school systems may raise some serious red flags in the future.
G Affairs reminded me a little of films like May We Chat and Lazy Hazy Crazy. They offer a more contemporary, frank and compassionate look at young people in Hong Kong, spruced up with some light genre elements (this is still a Hong Kong film after all). But it's no doubt Lee's prior collaborations with Herman Yau that rubbed off on him the most. G Affairs mixes youth/coming of age drama with crime cinema, a staple of the Hong Kong movie industry. With Lee's added visual flair, it combines into a film that is hard to pin down, but works on several levels at once.
Tai and Don are found in Tai's room, with Don holding a severed head in his hands. The police take the two boys with them for further questioning, but Tai has short-term memory loss, while Don suffers from Asperger. Through continued interrogation, a story slowly starts to emerge, with next door neighbors Yu Ting, Lung and Mei taking up a central role. Lung is a cop whose moral compass has gone completely haywire, Mei is his mistress and Yu Ting his daughter, a girl who goes to the same school as Tai and Don and is wrapped up in a secret affair with her teacher.

One important thing that sets G Affairs apart from its peer is the styling. Not that G Affairs is the most experimental film you'll ever see, but it's clear that Lee had a vision of how his film should look. For one, he regularly takes breathers from the narrative to insert segments that play more like visual poems. Combine that with forceful use of color and a keen eye for lighting, spectacular camera work and some very tight editing, and what you get is one of the prettiest films to have come out of Hong Kong in a long time. Cinematographer Ka Ho Karl Tam hasn't done much since, but he should be a name to look out for to in the future.
The soundtrack isn't really on the same level, though only in the sense that it isn't quite as distinctive. The music itself is more than solid, mixing familiar classical pieces with more typical film music. It supports and even drives the atmosphere, but doesn't really offer something you haven't heard before. Like most Hong Kong films, G Affairs doesn't seem to know how to use a soundtrack to its full potential, but at least Lee made a real effort to make it an essential part of his film. The music is an asset, it just needs that little extra push to make it a stand-out feature.
The cast is mostly made up of young actors, which is always nice when you're scouting for new talent. Hanna Chan definitely fits the description. G Affairs was only her second film, and she's already leaving an indelible impression. She has a pretty tough role here, but her layered performance feels completely effortless and even though her character may be behaving rather erratic, it never comes off unnatural or forced. Chapman To is probably the only true veteran in the cast, taking on one of his most evil and relentless roles to date. These two actors carry the film, though the rest of the cast is on point too. Just not quite on their level.

The first 30 minutes are a bit chaotic, mixing different narrative strands and messing about with several genres. It starts with the somewhat confusing crime/police angle, then quickly switches to taboo-drenched high school drama. A pivotal scene around the half hour mark starts to weave the two together, with the distinct styling providing extra glue. That scene really grounded the film for me, from that moment on it became smooth sailing, building up to a sprawling finale. Not everyone will agree, and I'm sure the film has the potential to be quite divisive, but if you're not quite feeling it 15 minutes in, just stick with it a little while longer.
It's quite uncertain when and if we'll see another Lee film in the future, but at least they can't take this one away from us. With stunning cinematography, superb performances, an intriguing plot and challenging themes, G Affairs becomes a testament to the cinematic prowess Hong Kong can produce. Hong Kong has more to offer than slick genre cinema, aiming to please and amuse, and it's nice to be reminded of that once in a while. You may have to go out of your way to catch this film, as somehow it slipped past the international radar, but it's 100% worth the effort.