2004 / 115m - Japan
Drama, Comedy - Anthology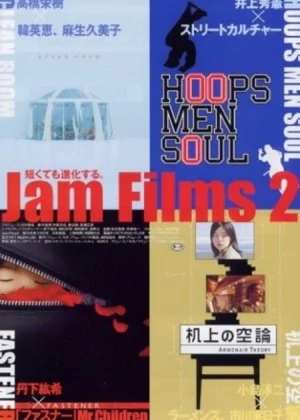 Being a fan of both anthology films and modern Japanese cinema is a good position to be in, seeing as Japan has made excellent use of the format ever since its latest cinematic renaissance. One interesting project is Jam Films (actually a series of 3 anthology films), of which the second one is my personal favorite. It's been a long while since I watched any of these films though, so I figured, why not start with the one that left me the best memories.

Jam Films was a Sega-backed project conceived to provide young and upcoming directors with a platform to show off their skills. It's a little disheartening to see that none of the four Jam Films 2 directors managed to make much of their further career, but at least the four of them combined left behind one great anthology project. While the other two entries in the series (Jam Films and Jam Films S) feature some great shorts, this second installment shows the most promise.
First up is Junji Kojima with Kijo no Kuron, a charming little comedy that explores the dating rituals of the average Japanese couple. Set up as an educational video tutorial, the short starts out with various pointers and techniques for a man to use when trying to seduce a woman. The second part of the short provides a real-world example of the demonstrated techniques. While a little bare-bones at times, the comedy is pleasantly absurd and the potential of the premise is used to its fullest. Fans will recognize Mikako Ichikawa in the lead role, an actress with a good nose for quirky comedy. While not great, it's a sweet little opener to ease you in. 3.5*/5.0*

Up next is Eiki Takanashi's Clean Room, quite a big step up from the first film. It's an excellent little drama about a girl suffering from mysophobia. To battle her disease, she resides in a sheltered environment, far away from any outside influences. Until one day Hoshino (Kumiko Aso) seeks her out and starts bonding with the girl. Beautifully shot, using strong and bold colors and featuring an entrancing soundtrack, Clean Room ends up being a good notch above the typical Japanese drama. Of the four films, this is the one I would've loved to see expanded into a full feature (though that doesn't mean it's my favorite entry). 4.5*/5.0*
The third film is Hoops Men Soul, by Hidenori Inoue. It's the weakest of the bunch, but not a bad film in itself. Inoue goes for a very outspoken hip-hop look (agile, in your face camera work and some on-screen graphics), but still can't prevent that his films looks a little cheap and barren in places. The story too is a little tried and tested (a basic yakuza/love story), but the pacing is adequate and there's really no time to get bored. As a feature film this probably wouldn't have worked, but as an anthology segment it's not all that bad. 3.0*/5.0*

The fourth and final short is Kouki Tange's Fastener, a truly spectacular finisher and undoubtedly my favorite segment of the anthology. Based on a song, it's by far the most enigmatic and puzzling film of the bunch. There's no clear plot or obvious point, instead Tange focuses his efforts on building up an intangible atmosphere. With its muted colors, strange jumps in logic and somewhat uncanny setups, Fastener is right up my alley. Add to that a hilarious appearance of Yoshiyuki Morishita and you can understand why I'm a little disappointed that Tange never directed afterwards. 4.5*/5.0*
Jam Films 2 is a strong collection of shorts. As is always the case with anthology films the quality between the films varies strongly, but with no weak entries and two exceptional shorts Jam Films 2 is an interesting and worthwhile project. Sadly none of the directors involved really made it afterwards (the only one still directing features is Inoue, but he has the weakest short here), but that doesn't take anything away from the quality of this film. If you like Japanese cinema, and you don't mind watching anthology films, Jam Films 2 comes warmly recommended.