Jeux d'Enfants
2003 / 93m - France
Romance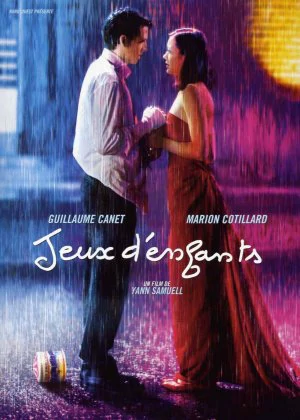 Timing is everything. When Yann Samuell released Love Me If You Dare [Jeux d'Enfants] the world just wasn't ready for it. There were too many parallels between Samuell's first and Jean-Pierre Jeunet's Amélie and with only two years between both films Love Me If You Dare lacked the punch to supersede Amélie. I still ended up liking it a lot, though it kind of slipped away as time passed by. Turns out it's still a pretty great film, even though it hasn't aged as well as Jeunet's landmark.

Love Me If You Dare was the start of pretty bumpy career for Samuell. It would take him five years to direct his second feature (the American remake of Korean sweetheart My Sassy Girl), after that his career would only go downhill, grinding to a complete halt when The Great Ghost Rescue bombed spectacularly. It's a real shame because Love Me If You Dare did show a lot of promise, things could've gone differently for Samuell if only his timing had been a little better.
Even so, the comparisons with Amélie run only skin deep. The first part of Love Me If You Dare does take place in an Am&eacute,lie-like universe, featuring candy-colored cinematography, plenty of voice-overs stating irrelevant details and an overdose of child-like mischief and wonder ... Jeunet is never far off during the first thirty minutes. But halfway through Love Me If You Dare takes a grim and relentless turn, doing away with the atmosphere of the first part pretty quickly.
The film opens with Julien and Sophie at a crucial moment in their lives. To make Sophie feel better after being bullied by some kids at school, Julien offers her his most prized possession: a carousel box he got from his mother. Sophie appreciates the gesture but can't accept Julien's selfless gift. She proposes a game of truth or dare so Julien can win the box back fair and square. It's the start of a tradition that will end up ruining both their lives.

The cinematography is fun, colorful and expressive. Lots of playful camera movements, coupled with strong use of color and lighting make for a nice-looking film. A good 10 years after its original release though some cracks are starting to show. The film looks a little too grim at times and the camera work isn't always as fluid as it should be. Small details that hardly impact the experience, but it should be noted that Amélie didn't suffer the same aging woes at al.
The original score is nice, not too memorable but pleasant and agreeable. There are some sweet, dreamy tracks that give the film a warm glow, while also providing a nice contrast during the second half. Then there are several different versions of Piaf's La Vie en Rose (Cotillard would play Piaf 4 years after the release of Love Me If You Dare) that are featured throughout the film, becoming increasingly ironic as the film progresses. All in all it's a quality soundtrack, though Samuell could've pushed it just a little further.
Guillaume Canet (Vidocq) and Marion Cotillard (Innocence) take up the lead roles, assisted by Thibault Verhaeghe and Joséphine Lebas-Joly as their younger selves. The four of them do a good job, though Canet and Cotillard obviously had the toughest part keeping the audience engaged as their characters become increasingly unpleasant. The secondary cast is decent too, though it's clear the budget didn't allow for any big names in any of the supportive roles.

While the first half of the film is quite cuddly and sweet, the game between Julien and Sophie takes on grotesque proportions as they grow older. Afraid to act on the feelings they have towards each other, they hide behind their silly truth of dare challenges. It's at this moment when Love Me If You Dare starts to pull away from Jeunet's influences, serving a much darker and grimmer slice of romance. The second half is where the film really starts to shine, ending on a poetic note that wasn't unlike the ending of Sorrentino's Le Conseguenze dell'Amore
Even though the film has aged a little, there's still lots to like here. The 30 minute introduction has suffered the worst, but once the film switches to the adult versions of Julien and Sophie it finds its balance, exploring an angle that's quite unique to this film. Love Me If You Dare looks good, the soundtrack's nice and the actors do a good job. Sadly it has become one of the forgotten films of 00's, a destiny it didn't really deserve.