Zhu Li Ye
2010 / 106m - Taiwan
Romance, Drama - Anthology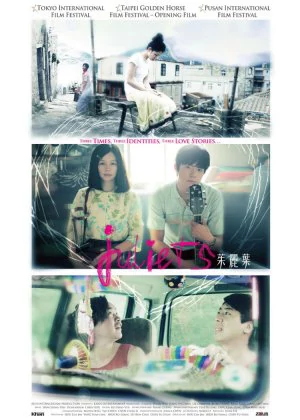 Most anthology films I've tackled so far were composed of a considerable amount of shorts. Juliets [Zhu Li Ye] is a little different as it only includes three shorts, all of them keeping to a well-defined concept. Juliets compares more to films like About Love or Eros, rather than the ones I usually review here. It changes the dynamic of the project a little, but in this case that's hardly a negative thing. If you want a look at Taiwan's upcoming talent, this film is definitely not to be missed.

The idea behind Juliets is a re-imagining of Shakespeare's classical character in a more modern setting (ranging from the 70s until now). Each short features a Juliet (the second film even has three) and follows his or her romantic misadventures. The re-imagining is quite broad and free-form, but the basic concept remains firmly etched in all three parts. The first two films are pure romantic dramas, the third one is more comical in tone.
The first short, "Juliet's Choice", travels back to the 70s and finds a physically disabled girl working in a little print shop. She falls for a student who tries to get his rebellious school paper printed and she decides to help him out behind the back of the print shop's owner. She doesn't really sit well with the friends of the boy though, and thus she gracefully sacrifices her own safety so the both of them can live together.
Juliet's Choice feels very much like a classical Chinese film. Hints of Wong Kar-Wai and Christopher Doyle are never far away, with lush camera work and vibrant colors set against dark shadowy backgrounds. The short is extremely elegant, stylish and well-acted. Hsu is almost unrecognizable here but she really carries the film well, effortlessly dragging the viewer down with her. It's a perfect opener for this anthology. 4.5*/5.0*

The second short is titled "Two Juliets" and features one real Juliet, a fake one and one that gets converted along the way (they should've named it Three Juliets really). A rather striking story about a girl that sees herself locked up in a mental institution to escape the life of being a wandering artist, waiting for her lover to come back for her. Sadly circumstances prevent him from returning, leaving Juliet alone in the mental hospital. The short reminded me a little of Kitano's second segment of Dolls, as the story itself is told from a similar perspective (the main character 30 years later), but also because the film itself has a rather Japanese feel to it.
Through some lovely flashbacks the relationship between the two young lovers is adequately illustrated, getting you to feel for them in only a couple of scenes' time. Visually warm and beautiful, atmospherically endearing and peaceful, the flashbacks really are the core of this short. The scenes in our current time are all the more dramatic because of them, aptly staying clear from any false sentiments or fake dramatic tension. A truly magnificent short, one which I would definitely like to see expanded into a full-length feature. 4.5*/5.0*

The final short, Middle-Aged Juliet, is quite different in tone and atmosphere. From the very first frames it's obvious that comedy plays a more important role here, trading in dramatic tension for feel-good gaieties. It's no doubt an agreeable short film, but it takes some getting used to after the two previous shorts. The Juliet here is actually a guy turning 40, wrestling with his bad looks and tendency to fall for guys rather than women. But when he finally decides to end it all, his suicidal ventures keep getting interrupted by a local film crew.
Even though there is nothing much wrong with Middle-Aged Juliet, it's far from as engaging as the first two shorts. It's not up to par on any level and so it would've been better if it had been put as second in line. It's a nice breather no doubt, but by the time it gets featured in this anthology I was just expecting something more from the film. 3.5*/5.0*
In between the shorts are some nicely animated intermissions, properly introducing each film. As a whole, the complete package is lovely, featuring three good film of which two are truly outstanding. The quality is solid throughout without any big dips or serious disappointments. Here's to hoping these directors get a chance to release more of their material in the West, earning them the proper international respect. If you don't mind romance and drama, this smart anthology film is among the best out there, definitely recommended.