Kamome Shokudo
2006 / 102m - Japan
Drama, Comedy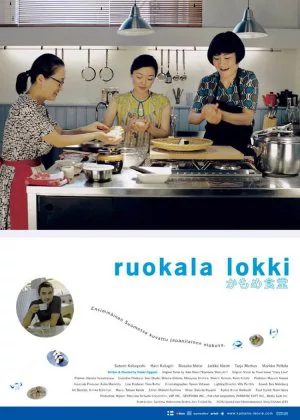 Ogigami scored a relatively small arthouse hit with Megane in 2007. Somehow that one slipped past me, but if it's near as good as Kamome Diner than it's going straight on my watch list. Kamome Diner [Kamome Shokudo] is the cinematic equivalent of a little time-out. A blissfully pleasant feel-good film that charms with its minimalist means and feels like a short but relaxing vacation.

Kamome Diner is characterized by two main elements. First of all there is the lack of dramatic tension. Even though the main characters are not free of troubles, they seem to regard their issues as something to conquer. Which they usually do in about 2 minutes. There is no drama, no negativity, no evil. It reminded me a bit of Totoro, which has that same lack of urgency. It's sure to put some people off, but me personally, I love it.
And then there is the food. It's probably some Asian thing, but they have a way of shooting dishes that betrays a certain love for cooking that reaches beyond common, everyday interest. This being a story about a diner means there had to be some kind of food stuff happening, but the almost religious act of making coffee shows there is some deeper layer there. Rest assured, this film will leave you with a craving for Japanese food.
The story is as simple as it is endearing. Sachie is the owner of a small Helsinki diner which just opened. The first days are rather slow, but little by little people are starting to visit her little restaurant. Which is all there really is to it. People pass by, some only once, others stick with Sachie and help her out. There are no hints of financial problems, racism or bad-blooded competition. Just Sachie's diner and an increasing amount of customers, enjoying her cuisine.

Visually this is what you've come to expect from a good Japanese drama. Sober and minimalist, but with a keen eye for framing and filled with static yet strong and emotive camera work. On sparse moments Ogigami allows herself a somewhat more colorful and funky style, usually during the more straight-forward comedic scenes. Add to that some tourist shots from Helsinki and the result is a rather classic but visually pleasing film.
The soundtrack is fitting. A little jazzy, not too present but giving the film a laid-back, lingering atmosphere. Acting is strong too, Kobayashi in particular portraying a very likable and cheerful character. It's also a nice surprise to see Markku Peltola doing a cameo, I immediately recognized him from Kaurismaki's "The Man Without A Past" (with means something, as it's been ages since I last saw that one).

Kamome Diner is the kind of film that doesn't ask too much of the viewer. You can doze of if you want, or you can let your mind wander at some points. You won't miss anything crucial, nor will the film alienate itself. You can drop in at any time and simply enjoy the lingering atmosphere or the quirky characters.
While the film isn't a straight comedy, the tone is so light that you can't help but smile for most of the film. There are a couple of comedic interludes, but they never ask for much attention. It's really just a feel-good film without any further pretensions.
If you're a fan op Japanese dramas, in particular films like "Cafe Lumiere" or "Breathe In, Breathe Out", you will have no trouble finding a little place in your heart for this film. It's a truly pleasant experience from start to finish, but the lack of dramatic events is sure to leave some scratching their heads.