Tasher Desh
2012 / 112m - India
Fantasy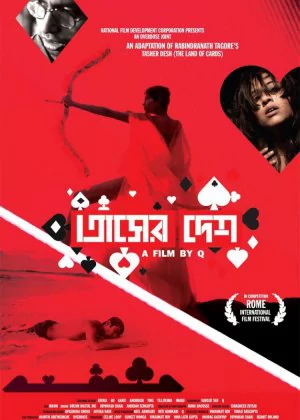 If you're like former me and you're not really interested in Indian cinema (thinking it's all just sing and dance Bollywood stuff), do give Qaushiq Mukherjee a try. His films are really something else. I just recently caught up with The Land of Cards [Tasher Desh], one of his older films, and I was quite blown away by it. It's his most accomplished film so far, at the same time it's also his most challenging one. The Land of Cards is a film for adventurers, people looking for something new. If you think you can handle that, do read on.

Even though Bollywood is huge (even bigger than Hollywood if you're going by quantity), it's still very much a closed off niche in the West. Going beyond Bollywood to explore lesser known Indian cinema used to be near impossible, but thanks to the global efforts of Netflix people like me have options now. That's exactly how I found out about Qaushiq Mukherjee, whose films are actually quite well-represented on the streaming service. Gandu and Ludo are nice introductions to his oeuvre, The Land of Cards his undisputed masterpiece.
The Land of Cards is based on a short story by Rabindranath Tagore, a highly-respected Indian poet/writer. People familiar with Tagore's work might find it a little easier to get into the film, others will probably be scrambling to piece everything together. The first hour in particular is all over the place, not in the least because Mukherjee is way more interested in style and abstraction than he is in retelling Tagore's story by the letter. Persevere though and things will eventually clear up, even though the film remains well on the style over substance side from start to finish.
The story revolves around a young prince who yearns for freedom. The prince lives a good life and his every need is taken care of, but he isn't allowed to venture outside his home, and he ends up feeling imprisoned by his own luxury. He decides to leave his old life behind and takes off to explore the world and experience other cultures. His little trip goes well, until he wanders into the land of the cards, a militaristic regime that lives by a strict set of rules and scoffs at the idea of freedom and personal expression. Should you still be wondering, there's a clear moral to this little fantasy story.

Make no mistake though, The Land of Cards is an audiovisual experience first and foremost. If Tagore is a poet/writer, Mukherjee pays his respects through visual poetry (with credits to cinematographer extraordinaire Manu Dacosse). Lush sets and superb use of strong colors and expressive lighting make for a visual feast, but it's the editing and camera work that really define the visual language of the film. The scenes in the land of cards in particular are completely manic and over the top, edited with the same rage and intensity the characters of the land exude. This is clearly my kind of cinema.
The soundtrack is a bit harder to critique. Not for lack of effort or passion mind, it's clear that a lot of thought went into the music and sound design. Even so, there's a lot of Indian pop music in there and while not quite the jolly Bollywood kind (supported by crazy dance routines), it's still somewhat of a cultural shock. That said, the soundtrack does bring something extra to the table and it's always nice to see a director with enough audacity to go all in on the music. Taste and cultural issues aside, it does work well within the confines of the film.
Not having seen that many Indian films yet, commenting on the level of acting is also going to be a bit tougher than usual. That said, none of the actors felt terribly out of place. Some of the performances are a bit overstated, but no doubt that's part of the somewhat theatrical and abstract nature of the film. Joyraj Bhattacharya and Sayani Gupta were the stand-outs for me, the rest of the cast wasn't far behind though and as a whole it felt like a very solid casting.

Regardless of country of origin, The Land of Cards is a pretty fresh and unique experience. Without the proper background it's not quite clear how much Mukherjee's cultural heritage influenced the film, but in the end that matters very little. Just give the film a little time to establish itself and you should be able to catch on relatively quickly. The beginning may feel a little daunting and disorienting, but once the price reaches the land of cards the broader lines should be pretty clear and transparent.
There comes a point in a film fan's life when few things still manage to surprise, let alone bewilder. At that exact moment, films like The Land of Cards become something you thoroughly treasure. Mukherjee delivered a film that balances between arthouse, genre and author, and he managed to create a film that's so unique, it's pretty much impossible to draw comparisons to other films. It's definitely not the easiest film to get into, but if you're looking for something different, The Land of Cards is one hell of an experience.