Ai Shang Que Jiao Zu
2015 / 104m - Taiwan
Drama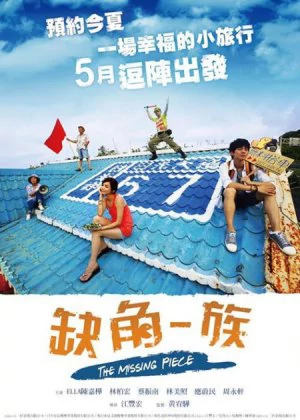 It's clear by now that the big Taiwanese cinema boom isn't happening anytime soon, despite some very promising signs a couple of years ago. That doesn't mean the country is lacking in quality films though. From time to time a little gem floats by and whoever is paying close attention will be aptly rewarded. Foung-Hon Chiang's The Missing Piece [Ai Shang Que Jiao Zu] is such a gem: a sweet, little film that successfully combines lighthearted drama with touches of deeper emotion.

The Missing Piece presents itself as a warm, sweet and comfortable drama. Taiwan is an ideal setting for a film like that. It's one of the greenest places I've ever seen, there's sea everywhere, the summers are sunny and it has remote places that look as if time has stood still for the past 50 years. Just looking at some stills is enough get that vacation feeling going. And Foung-Hon Chiang exploits that to the fullest.
The second sign that betrays this film's Taiwanese roots are the betel nut stands. Not that it's uncommon to have small food stands alongside the road in other countries, but these betel nut stands are something peculiar. They hold the middle between food stops and public softcore erotica, with scantily clad women serving their customers drinks and betel nuts. If that sounds somewhat familiar, it might be because Kang-sheng Lee's slightly more famous Bang Bang Wo Ai Shen [Help Me Eros] also featured them prominently.
The film follows Lin Daofeng, a young boy who suffers from a strange affliction. Whenever he is asked a question, no matter how simple, it always takes him 5 seconds to reply. Tired of upsetting people he goes on a hitchhiking trip, hoping the contact with others will help him get rid of his problem. That's how he meets Shasha, a betel nut girl. Together with three others Lin spends his days hitchhiking around the island, bonding with Shasha and her friends.

Chiang's idyllic vision of Taiwan completely dominates the cinematography. At its worst, the weather is mildly cloudy, meaning that the film overflows with bright greens and fresh blues. Palm trees, the sea and lush vegetation make for a perfect backdrop in which five quirky characters prance around. The camera work is up to Taiwanese standards and the editing feels solemn and timely. Add a couple of modern touches left and right and you end up with an extremely pleasant-looking film.
The soundtrack walks a fine line between comfortably beautiful and slightly overdone. It has a strong Joe Hisaishi vibe, perfect for its summery setting, but it lacks Hisaishi's subtlety and it can be a little too present at times. But right when you think it'll start becoming annoying, Chiang dials it back a notch and it returns to be being just nice and fitting. It's definitely not a bad soundtrack, but a little subtlety would've gone a long way in making it better.
Luckily the cast is right on point. Po-Hung Lin is well on his way to make something of his career. After his small part in Transformers: Age of Extinction he demonstrates he can easily carry a film by himself. That said, he is still outperformed by Ella Chen, local pop star turned actress. The two form a marvelous duo, with Chen-Nan Tsai and Mei-Chao Lin serving as perfect sidekicks and Wei-min Ying taking care of the more comical bits. An all-round strong cast.

The strength of The Missing Piece is the particular balance it upholds between its joyful and upbeat appearance and its slightly more sensitive core. When Chiang is focusing on his quirky characters and their funny adventures the film is extremely light and easy-going, but whenever he takes a step back a more painful layer of emotions is revealed underneath. Some might find the upbeat side not quirky enough, others might be disappointed that the dramatic side lacks depth (it's not hardcore arthouse after all). The experience is rather personal, but for me it worked extremely well.
Foung-Hon Chiang produced a sweet, sunny and pleasant film. The acting is great, the film looks good and contains just the right amount of drama to stop itself from becoming too sweet and/or sentimental. The Missing Piece is the perfect film to brighten up a warm, summer evening, though you'll have to put in the effort to dig it up somewhere. Internationally speaking it has been completely ignored. Luckily the Taiwanese DVD comes with English subtitles, so even if nobody else decides to pick it up it still has a fighting chance to prove its worth.