Mogura no Uta Final
2021 / 129m - Japan
Comedy, Crime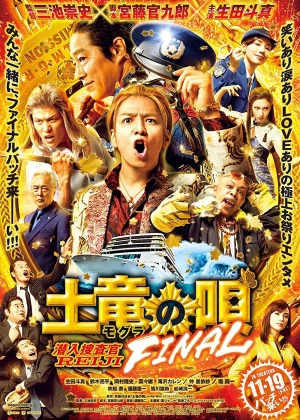 The third and final part in Takashi Miike's comedy cop series has finally arrived. The Mole Song: Final [Mogura no Uta Final] suggests they didn't spend too long thinking up a title, time that was better spent elsewhere. It took Miike 7 years to finish this series, which is an unusually long time for his doing. Of course, his pacing these days is quite a bit different from what it used to be. Whether that has resulted in better films is debatable, the fact is that The Mole Song: Final won't disappoint fans of the earlier installments, even if it doesn't really manage to one-up the previous parts.

The Mole Song films are core comedies with some crime and police procedural elements added for good measure. It's a solid template for Miike's unquenchable thirst for weirdness, as comedy lets you get away with pretty much everything. These films are clear blockbusters though, meaning the almost unlimited freedom Miike enjoyed back in the day has been limited by the need to recoup investments. While the film finds a nice balance between blockbuster appeal and Miike crazy, fans of his older work might be a little disappointed by the lack of anything truly insane or grotesque.
This third part brings the Mole Song franchise to a close, but that's just a side note. All that means is that our mole is getting another mission to complete, one with more lasting consequences. The stakes are a little higher this time around and the finale feels like a true wrap-up, but make no mistake. It would take any half-decent scriptwriter less than 5 minutes to come up with an outline for a fourth sequel if needed. Other than that you're getting exactly the same genre mix and structural setup as the two previous films, par for the course for a vintage blockbuster finale.
Reiji is still undercover, trying to apprehend the leader of a big Yakuza clan for the trafficking and distribution of cocaine. He helped set up a lucrative deal with the Sicilian mafia, who have developed a way to turn cocaine into spaghetti. The shipment is supposed to arrive in Japan soon, but Reiji's big brother can't stand the idea of the Yakuza getting involved in the drug trade, and he messes up the production plant where the spaghetti is made. When news hits that the big chief is taking his leave and giving the reins of the clan to his son, Reiji will have to once again prove his worth and loyalty to the clan in order to complete his mission and escape from his predicament alive.

Visually the film pretty much delivered what I expected from it. Miike knows how to make the best of a budget, both big and small. In the case of his wacky blockbuster material, that means warm colors, slick camerawork, and special effects that contain a nod to his roots (i.e. function over technical competence, but still showing some craft now that the budget isn't a problem anymore). Miike's not doing something new or original here, but there are few other directors out there who would be able to do something similar, so who am I to complain?
The soundtrack is probably the weakest part of the film. It's a rather generic score that underlines the lightness of the mood, making extra sure nobody is taking anything Miike does here seriously. There is another silly motivational song (each film has one, this time it's a "rap" track) to add to the comedy, but the execution wasn't really on point (doing comedy songs is hard). Other than that, the score is just some background noise to cover up any awkward silences. It's not that I expected anything more of it, but I do find it is a bit of wasted potential.
The film offers a good mix of old and new-generation Japanese actors, though personally I was more drawn to the older cast members. People like Ken'ichi Endo (in a smaller part) and Shin'ichi Tsutsumi (in a meatier secondary role) seem to have endless appeal and brighten up every scene they're in. Toma Ikuta is a pretty solid lead and handles the comedy well, the rest of the cast is decent too but isn't all that remarkable. The best parts are reserved for the bad guys of course, with some zany Yakuza henchmen, but it's not so much the performances but the characters themselves that make the difference there.

Apart from a short recap at the beginning of the film, and an epilogue that concludes the series, this could have been a simple stand-alone production. It's really little more than another undercover mission for our mole, with a quick setup at the start, some hurdles along the way, and a convenient wrap-up at the end. What matters is what Miike does with it of course, and that's where this films score points. The offbeat characters, the insane ending, and some random but extremely funny interludes make sure this isn't just any old blockbuster, but a film that sticks to your brain.
The Mole Song: Final is exactly what it should be. There are no big surprises, no great franchise-bending twists or novel takes on a tired old concept. Instead, you get a vibrant blockbuster that conforms to genre standards, while leaving Miike enough room to insert his signature elements. The definition of pure and unfiltered entertainment. Sadly, unless you're able to catch The Mole Song: Final at a festival, there's no proper way to access this film, so keep pestering distributors and keep your fingers crossed these films will eventually make it to the West. They certainly deserve a broader audience.