Nyocker!
2004 / 87m - Hungary
Comedy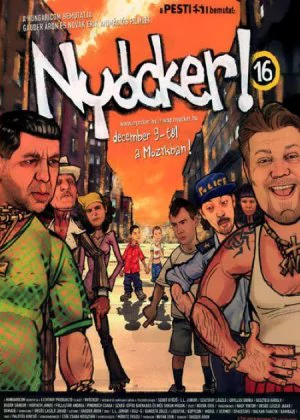 Eastern European cinema is on the rise. Serbia is currently touring the festivals with a selection of remarkable genre films, Hungary is doing pretty well too with directors like Nimrod Antal already grounded on the shores of Hollywood. Nyocker! is just more proof of the cinematic talent housing in these parts of Europe, blasting itself on the European animation scene with much vigor and leaving a permanent mark.

From the very first frames of Nyocker! you know you're watching something special. The art style is a strange mix of Mini-Pato brought to a 3D environment using wax crayon drawings, semi-realistic faces and lots of two-frame texture animations. It's an eclectic mix that reminds me a little of Chinese short film See Through but still manages to keep a very distinct and unique feel.
The film itself plays like a raw mash-up of Rane and Kusturica's Black Cat, White Cat. Gauder's film is set in a Budapest ghetto where two clans fight for control and power. Kusturica's influence is found in the gypsy characters and their funny, poppy yet crude sense of humor, injecting the film with a lot of irony and sarcasm. Throw in some Romeo and Juliet references and you're all set to hit this film head-on.
The intro of Nyocker! is spent on introducing the district and its inhabitants. Once the setting is established two separate storylines kick off. We get to follow the romance between two kids of conflicting gangs while at the same time the youngsters in the neighborhood are trying to get rich by making oil the (extremely) hard way. They do this by traveling back in time, killing a whole lot of mammoths and returning to dig for the black gold. Realism is obviously not a priority here.

As I mentioned earlier the art style is a real treat. It's rare to see such creative ideas handled this well the first time around. The two-frame texture animation gives the film a rough edge but cannot hide the care and talent that went into animation the whole deal. For people judging the quality of animation by fluidity it might not look too impressive, but there's a lot more to the craft of animation than just getting a fluid motion out of a drawing.
Editing and camera work deserve a special mention too as they are pretty awesome in their own right. The camera makes superb use of the 3D environments while the editing gives the film a very modern feel. Add to that some nifty visual effects and style variations and you have a visually varied and accomplished film, somewhat of a surprise for a film coming from a nation that has little history in international animation projects.
The soundtrack is pretty poppy and eclectic too, going from rock to hip-hop to gypsy music. The musical intermezzos are funky and entertaining, though they do little to heighten the atmosphere of the film. Voice actors are good as far as I can tell. I haven't seen too many Hungarian films though so it's a little hard to tell with certainty. And like always, stay away from dubs, even when watching an animated film. It takes away part of the experience.

Once past the halfway mark the pacing of the film becomes a little flaky. Somehow the story elements feel more suited for a 30 minutes episode series rather than a feature length film. Events appear rather random and even though there's plenty of originality to keep the film going, Nyocker! lacks the true genius of other absurd films to hide the lack of a main arc. It all comes together in the end, but the middle part feels a little aimless and just a little too random.
That said, there is still plenty to enjoy here. When the storyline or visual gags aren't there to engage you, you can always marvel at the stunning art style and animation until something more interesting comes along. The crude humor and absurd twists won't be to everyone's liking, but if you're looking for a sprawling and original example of European animation, Nyocker! is a pretty safe bet. I'm excited to see where Gauder is going next with his career. One thing is certain though, he has already left his mark.