Hyakuman-en to Nigamushi Onna
Hyakuman-en to Nigamushi Onna
2008 / 120m - Japan
Drama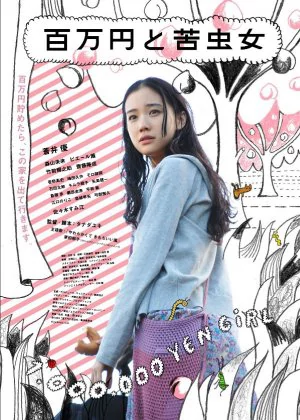 The title and promo material might have you believe that One Million Yen Girl is a quirky Japanese comedy, but that couldn't be further from the truth. In retrospect, it's not so much the artwork or the title itself that carries this misconception as both definitely fit the film, but simply some false assumptions on my side. Be warned though.

One Million Yen Girl is a variation on the old 'the grass is always greener on the other side' proverb, but with a refreshingly down-to-earth twist. It's not so much a movie about finding out the best place to be, it's about facing up to whatever comes your way. How green the grass really is doesn't matter, it's all about appreciating the specific color in a location for what it is.
The first half hour of the film we get to find out why Suzuko decides to run away from all those close to her. A rather trivial incident lands her in prison, leaving her with a criminal record and an enormous sense of shame. Returning back to her own family and neighborhood, the peering eyes of those around her quickly strengthen her urge to start all over again.
The remainder of the film is spent traveling from place to place, following Suzuko as she repeats the process of earning one million yen, then leaving again for the next place. A trip through some typical Japanese sceneries, passing the beach, the mountains and the urban regions. Parallel to Suzuko's story, her younger brother is learning a similar lesson at home.

Visually this film could be used as a textbook example of the Japanese drama genre. Subtle camera work, mostly observing, serving enjoyable but somewhat unremarkable shots. Only to be pierced by several landmark moments giving the whole a very pleasant feel. It's pretty basic but quality stuff, giving the film a solid dramatic base to start from.
The soundtrack is equally nice yet standard. One Million Yen Girl won't win any new fans to the genre, that's for sure, but genre fans will appreciate the lingering and soft musical score while Suzuko is traveling from town to town. Only the beginning is a little louder and screamish than usually the case. Acting is very strong too, with Aoi delivering a very powerful performance, helped by the people she meets along the road.

The slow pacing of the film will turn some people off, as will the silent characters and stone-faced performances. Those more familiar with Japanese dramas will look past that and have no trouble deciphering the emotional impact of Suzuko's adventures.
The ending is a little mean but works remarkably well. It gives the film its down-to-earth dimension, making it less preachy and fluffy. Saying anything more would be spoiling it, so I'll refrain from doing so, but even though it feels like a "good" ending, there's certainly a more dramatic side to it.
One Million Yen Girl is a very typical Japanese drama which does little to really set itself apart from its peers. It will mostly appear to fans of the genre, which I happen to be. The overall quality is high though, working on every level and leaving you with a satisfied feeling afterwards. Recommended.