Koi Suru Kiseichu
2021 / 100m - Japan
Romance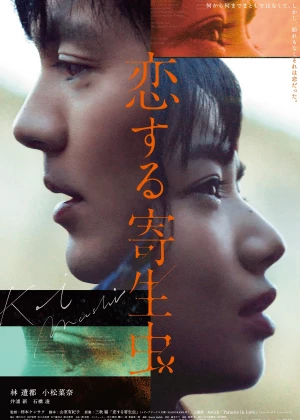 Japanese cinema is in a transition phase. The big-name directors from two decades ago are nearing the end of their careers, while new talent is emerging, but hasn't really established itself yet. The downside is that many films released nowadays feel a bit safe and comfortable, it also means that happy surprises may be waiting around every corner. Kensaku Kakimoto's Parasite in Love [Koi Suru Kiseichu] is such a neat little shocker. There is no lack of drama and romance films in Japan these days, which makes it difficult to stand out, but Kakimoto managed to do exactly that.

Kakimoto is a relative newcomer. He's been around for quite a while, but apart from a small blip around 2011 (2 feature films in 2 years' time) he hasn't directed that many things. I'm pretty eager to seek out those films now, because he is a director with a clear stylistic vision, and he certainly dares to be bold to make an impression. There was a time when Japan was brimming with similar profiles, but due to waning international interest and home market pressures, there aren't that many left. Here's to hoping Parasite in Love isn't just a random hit for Kensaku Kakimoto.
The film is structured as a typical romance, but the premise is a bit stranger, and quite a few scenes are handled as if they're part of a core cult/genre film. It's this specific combination that gives Parasite in Love its unique flavor and makes it stand out from the crowd. The opening for starters made it feel like this was going to be a companion piece to Ken Ninomiya's The Mightnight Maiden War. Later on, more classic drama scenes were added (the lake scenes, in particular, stand out), only to finish off with some all-out romance fireworks. It's quite a ride in other words.
Kengo is a germophobe. He never managed to find his place in society, and he grew up a recluse. He wants to take revenge on the world and he's writing a virus to help him accomplish just that. One day a mysterious man is waiting for him in his bedroom. He knows about Kengo's plan and uses it to blackmail him into an odd deal. Kengo is paid to take care of Hijiri, a girl who suffers from ommetaphobia. The two don't get along at first, but their phobias bring them closer together. As their friendship bolsters, they begin to realize their forced encounter was anything but coincidental.

Japanese dramas come in a few different flavors and they each have their typical style they adhere to. I'm quite partial to a few of them, so I don't complain about it too often, but originality is not something baked into this particular niche. All the nicer to see a film take a chance on the styling. From the very first scenes, it's obvious that the styling is going to play a considerable part in the overall appeal, sporting bold colors, classy lighting, and stark framing. Kakimoto also keeps it up until the very end, so it's not just some random whim to attract viewers early on.
The soundtrack too deserves a big kudos. More so than the cinematography even, Japanese dramas come with very strict guidelines for scores. Strings and pianos are the go-to instruments, possibly with some generic J-pop tracks tied in for intro/credit/trailer purposes. Parasite in Love serves a more contemporary score. It still has a pretty poppy feel to it, but the more experimental/indie kind of pop you rarely find in films, let alone Japanese ones (maybe we can call it the Ken Ninomiya effect?). It is a very strong score, that underscores the emotional core of the film very well and lends extra identity whenever it surfaces.
Kento Hayashi is somewhat of an acquired taste, the quality of his performances also varies wildly between films, but he really holds his own here. It's needed too, as Nana Komatsu is a real powerhouse, and she thrives in a film like this. The two work very well together though, and the bond that develops between them feels genuine and earned. With actors like Ryo Ishibashi and Iura Arata appearing in secondary roles, it's all good on the casting side of things. It's not a film that puts all the weight on its actors, but as there lies a romance at the core of the story, you really need good leads for it to be successful.

The fun thing about films like this is that they avoid predictability by mixing together elements that are rarely used together. While watching, I never quite knew which way the story would tilt. It kept me on my toes and invested to find out where it would all lead. Looking back, the film doesn't always take the most original turns and decisions, but because it never felt too obvious or phoned in, it didn't bother me at all. I do suspect the film isn't a big hit because it's not quite as easy or familiar as a more generic genre flick, but that effect seems to be rather common these days.
Kensaku Kakimoto made something very special here, and it's a shame the film isn't being recognized for it. The mix of drama, romance, and genre feels fresh and unique, and each part is executed with the proper flair, skill, and gravity to make a mark of its own. It's one of the most unique romances I've seen, and even though the film takes on some more traditional story beats towards the end, it certainly ends with a proper bang. Kakimoto shows he is an asset to the Japanese movie industry, hopefully, this isn't just a one-off and he can finally launch his career for real. I certainly wouldn't mind seeing more films in this vein.