Pamamento Nobara
2010 / 99m - Japan
Comedy, Drama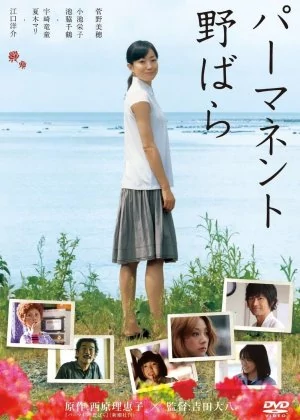 With Permanent Nobara director Yoshida confirms his signature style, removing all doubt that his previous films were some kind of lucky hits. Pay no attention to the poster and trailer I listed here, Yoshida's latest is a lot edgier that its own advertisement would have you believe. It's a cheeky little comedy with more sting than your average film, leaving you behind pretty amused yet somewhat bewildered.

Yoshida's first film (Funuke, Show Some Love You Losers) is one of my all-time favorite films. It dominates a list of off-key Japanese comedies that gained popularity in the late '00, combining rather wry drama with light-hearted comedy. A weird and awkward combination that won't appeal to everyone and no doubt requires a somewhat warped sense of humor to appreciate. It's difficult to compare to other comedy sub genres, but if you're into Todd Solondz (Life During Wartime) it's definitely worth a shot.
At first glance Permanent Nobara reminded me a little of Naoko Ogigami's Yoshino's Barber Shop. It features a similar town and similar hair dresser salon (one-style only haircuts - perms in this case), even the laid-back atmosphere is somewhat reminiscent. That is, until people start to talk to each other. The dialogs are strangely honest and direct, contradicting the appearance of the characters in front of us. Jolly looking grandmas are talking about scoring dates and screwing men, kids are talking about abortions and women are rather unbothered about the unfaithfulness of their husbands. Something is definitely off here.
Central to the story lies the tale of Naoko, a young mother who returns to her home village after divorcing her husband. Together with her young daughter Naoko moves in with her mother, using her spare time to help out in the local hair salon. Naoko tries to pick up the pieces of her life and starts dating her old classroom teacher, but much like the other men in the village he doesn't appear to be too reliable.

Visually Yoshida remains true to the conventions of the genre. Rural Japanese dramas usually result in bright green colors and idyllic landscapes, emitting a tranquil and soothing atmosphere. Add a couple of beautiful beach scenes and some scenic shots of the sky and you pretty much know what to expect from this film. Yoshida paints a pretty picture, though not overly stylized or in-your-face.
The soundtrack is quite simply a logical extension of the visuals. Soft piano music and agreeable strings combine to create a sweet, enjoyable atmosphere. It's not the kind of music you'll remember after watching the film, but it does serve its purpose rather well. I could see it working as some kind of de-stressing therapy, but I don't think that was Yoshida's aim here. Again, the film remains true to genre conventions.
Main character Naoko is played by Miho Kanno, an actress I first discovered watching Kitano's Dolls where she portrayed one of the saddest characters I've ever seen on film. Her talent for drama is a real asset to Permanent Nobara, as she can easily switch between heart-felt drama and the lighter, more deceptive dramatic scenes Yoshida forces onto his audience. The supporting cast is pretty great too, providing comedy and additional portions of sorrow to make the picture complete.

Permanent Nobara draws its humor from the light-hearted way it approaches its overly dramatic story. Through the eyes of any other director, there would've been a lot of pain and sorrow in this little village, but Yoshida turns it around and creates a happy, joyous and up-beat community of people that deal with their problems as it they were just little bumps in the road. Safe a few clear comedic interludes, Yoshida isn't too direct about his methods though. Most conversations are just passing moments that would go completely unnoticed if you weren't paying attentions to the subtitles. Everything in this film is made to make it feel as if you were watching a regular, run-of-the-mill (though quality) Japanese drama, but when you think you see some old ladies talking about the weather, they're really discussing penis lengths.
Like I said before, you need to be susceptible to this kind of humor to appreciate Yoshida's films. The end of Permanent Nobara is more straight-forward drama (that works remarkably well by the way, all credit goes to the superb acting of Kanno), but the first hour or so, even though the film is drenched in dramatic events, is straight-up comedy. This will no doubt lead to mixed reactions, but if you think you can handle it, this film is absolutely worth your time.
I'm actively seeking out Yoshida's final film, if it proves to be as good as Funuke and Permanent Nobara he's making my select list of directors to watch. If it doesn't, Yoshida is still responsible for two lovely comedies. Permanent Nobara isn't as edgy or out there as Funuke, but it's a great follow-up that knows to charm and amuse in equal measures. Recommended if you think you're up to the challenge.