Puratonikku Sekusu
2001 / 104m - Japan
Drama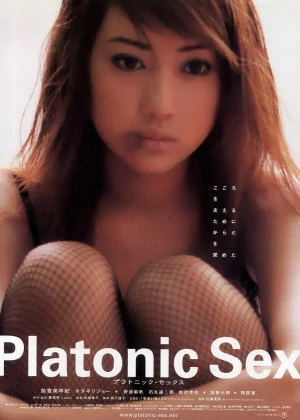 There used to be a time when Japanese dramas weren't readily available in the West (not that they are now, but at least there are options), so I used to just watch whatever I could get my hands on. Masako Matsuura's Puratonikku Sekusu [Platonic Sex] was one of the very first I ever saw, leaving me with fond memories of the film. A good 200 Japanese dramas later I couldn't help but wonder how it would stack up against the others, so it was time to give it another spin.

I only found out recently that Platonic Sex is actually based on a novel, more specifically the autobiography of Ai Iijima. Iijima is a former AV girl who later gained popularity as a TV personality, speaking frankly about her past life. This film is loosely based on her experiences as a young girl in the AV world, though the story is quite heavily dramatized. Her book also spawned a TV series that same year, but I never got around to watching that one.
When a Japanese drama opens on a (school) rooftop, a seasoned fan knows what to expect. You're either going to deal with a group of delinquents (but that's not very drama-like) or deviants, or there's going to be a strong suicide theme running underneath. In Platonic Sex's case you can expect the latter, as Iijima fights to find relevance in her life. It's no doubt tragic that the real Iijima was found dead in her hotel room 7 years later, though official reports contradict the suicide controversy her death sparked.
The film follows Aoi, a young girl completely detached from her environment. After she is raped by some boys her family shuts her out, blaming Aoi for what happened to her. On the verge of ending her own life, she is stopped by an SMS of an unknown sender. Intrigued by the message, she replies, in turn saving the sender from making the mistake of a lifetime. The two manage to keep up each other's morale, but in order to deal with life's everyday reality, Aoi takes on a job in a hostess club. In no time she rises to the top of the establishment, pushing her deeper into the AV world.

Visually it's on okay film, but don't expect too much of it. The camera work is nice enough, the editing solid and the lighting decent, but overall the film looks a little dim, even dull at times. Colors don't pop and there's a rather grainy quality to the images that takes away some of the appeal. It might just be a bad DVD transfer, but the look does correspond with other Japanese dramas made in that same era. By no means does it look sloppy or underdeveloped, it just can't compare to the surge of dramas that would follow in its footsteps.
The soundtrack on the other hand does deserve a little pat on the back. Aoi's friend works as a DJ and for once there's a film that doesn't feel compelled to switch out actual dance music by some lame, neutered soundtrack interpretation. The rest of the music is more in line with other Japanese dramas, the main theme in particular is a classic dramatic piano piece. It's decent enough and works well within the boundaries of the film, but it's nothing too earth-shattering. Still, props for remaining true to the club setting whenever appropriate.
Newcomer Saki Kagami features as Aoi. While she does a good job, it's clear she isn't a fully-fledged film actress. It doesn't really surprise me then that her career was rather short-lived and mostly happening in TV-related work. Joe Odagiri on the other hand is noticeably more at ease and would go on to have a successful career. But the most divisive part is no doubt played by Hiroshi Abe, who portrays a flamboyant but ultimately unlikeable rich guy. He does a great job, but some people just aren't going to like the character he portrays.

Platonic Sex's main characters constantly linger on the edge of self-destruction. They make dumb choices, some of their problems are clearly of their own doing and there are plenty of moments where they could've escaped or turned their lives around, even so the drama never felt forced or unnatural to me. These are just two inexperienced kids, trying to behave like adults in a world that doesn't really care for them. If you cannot accept that premise though, some of the drama is going to be a bit much and the downbeat atmosphere might miss its mark.
This isn't a great film by a great director. It didn't kickstart Matsuura's career, nor did it kickstart Kagami's. It is a very solid drama though, without any obvious weak spots and some bold choices that help to distinguish it from its peers. If you're a fan of Japanese dramas Platonic Sex is an easy recommend, if you don't have a clear idea of what to expect there are probably better film to watch first. It's not as good as I remembered, but it's still a lot better than I had feared.