Ruang Talok 69
1999 / 115m - Thailand
Crime, Comedy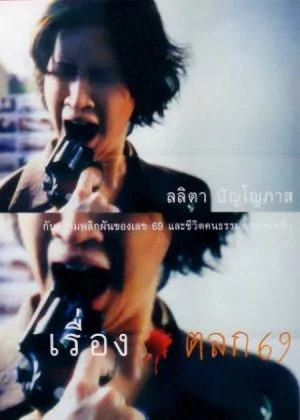 The last couple of years, Thailand has been outputting some interesting films, both commercial flicks and arthouse endeavors. On the good side of the arthouse fence, Pen-Ek Ratanaruang (gotta love Thai names) has been one of the front runners and main flagships of the Thai film industry. Ruang Talok 69 is one of his earlier films and probably the one that made many heads turn his way.

I've been on to Ratanaruang ever since I watched Last Life In The Universe, a collaboration with Asano and Doyle (at a later time successfully repeated in Invisible Waves). The film left a permanent impression and since then I've been on the look-out for more Ratanaruang's films. When I finally came across Ruang Talok 69 I didn't have to think twice before checking it out.
I'm usually a bit apprehensive about older films of directors I like, especially when I was introduced to their more recent work first. These films are often a little less polished, sometimes just downright dire and dull (it happened to Tsai Ming-Liang). In that sense, Ruang Talok 69 was a very interesting surprise. While it does not equal Ratanaruang's later work, it stands very well on its own and manages to keep a fresh appeal.
That said, the movie does start off a little slow. Tum is a rather dull woman who crawls back home after being fired from her work just a little earlier. Her place is as dull as she is and up until that point, nothing much interesting seems to be happening. That changes when a little box with loads of cash is left at her doorstep. An ideal opportunity for Tum to make a fresh start.

Sadly, things won't go easily for Tum. In no time, two scruffy looking guys are knocking on her door searching for the money. When they both fall dead on Tum's floor only five minutes after entering her home, Tum suddenly turns from a dull-downed woman into a woman with a plan. Money does strange things to people.
From there on, the film slips into an endless spiral of bad luck and coincidence, adding a healthy streak of dark humor and some amusing plot twists, ending up in a sprawling finale with bodies littered all over the place. Most of the action takes place in Tum's apartment, where boxes keep stacking up in order to dump the ever growing pile of dead people that end up inside her house.
It's this streak of black humor that adds a lot of flavor to the film. Without it, the films would've been a little plain. Luckily Ratanaruang has an excellent sense of humor (without becoming too bonkers - Thai humor can be pretty freaky). Top scene is probably the blow job scene, which is a lot less obscene than it actually sounds.

Visually Ratanaruang has everything under control. Nice and colorful settings (a typical Thai film look in other words) and some interesting camera tricks often mimicking the movement of characters. The film is not as polished or brilliant as Doyle's work, but I guess nobody would be expecting that. It's still a very clean and solid looking film.
More praise goes out to the soundtrack. While littered with funky Thai music, the darker scenes are scored with some very interesting tracks. I've found little so far about the composer of the soundtrack, but there's some major influence of Kenji Kawai's work in Ghost in the Shell. Not something you'd expect in a film like this, and the association is a little weird at times, but it does work wonders.
Some very interesting ambient tracks are placed underneath the key scenes, featuring instruments almost directly lifted from the GitS soundtrack. It adds heaps to the atmosphere and already defined Ratanaruang's preference for soothing (dark) ambient to score his films.
In the end, Ruang Talok 69 is a very fun ride, nicely shot and awesomely scored, presented with a great sense of humor and key scenes that are wonderfully executed. It starts off a little slow, the pace is pretty sluggish at first, but as the film continues it keeps getting better and better. Another hit for Ratanaruang, who's easily my favorite Thai director to date.