Sama Uozu
2009 / 114m - Japan
Sci-fi, Drama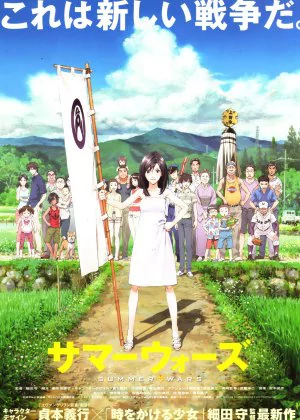 Hosoda is back with another feature film and remembering the sweet little surprise that was The Girl Who Lept Through Time I was determined not to let his newest slip by. Hosoda is slowly turning into a certainty for quality work, Summer Wars [Sama Uozu] only reinforces this position. He combines the two stretches of his earlier works to great effect and produces an anime that feels like the common denominator of all other anime out there while still coming off as a unique piece of work.

Hosoda started off directing the film (and several episodes) for the Digimon series. With The Girl Who Leapt Through Time he shifted gears and brought a sci-fi inspired rural tale. In Summer Wars he goes on to combine both elements within the same film, keeping both parts neatly separated but still coming up with a satisfactory mix. This is definitely the strong point of Summer Wars.
The start of the film introduces us to the world of OZ. In short, an alternative representation of our very own internet. There are some slight modifications, mostly the fact that all people are represented by a single avatar and travel more visually into the the realm of digital highways. But while the world of OZ might look more fantastical, many of the current capabilities of our internet are represented and the underlying social structures are pretty much the same as ours.
The problems start when the OZ network is hacked by an AI, taking over avatars of random people and feeding on them to become a more menacing entity. The only one who can save the network is a young scholar named Kenji, with the help of a family bearing an old samurai tradition. This family represents the more traditional part of the film.

Visually Hosoda has developed a very recognizable style. His characters are rather slim and don't feature too many detailed characteristics. There is little play of shadows and they are all drawn with a minimum of lines. This allows Hosoda to focus more on the animation itself which can be surprisingly fluid and spot on at times. Don't be expecting Disney-type fluidity but the actual quality of the animation is astounding. On top of that Hosoda still manages to grant his characters plenty of identity within his minimal approach.
The soundtrack features some nice tracks (there's one pumping electronic track in particular that stood out), though the appeal and power of the soundtrack is mostly limited to just that. It's not quite memorable or decisive for the atmosphere in the film. Voice acting on the other hand is strong and spot on. Those who fear squeaky, high-pitched voices can rest assured, the film goes far beyond the quality levels of TV-produced anime.

The rural scenes reminisce the work of Studio Ghibli. There's a quiet atmosphere running through them, capturing the spirit of summer by using lots of greens and blues and holding on to a very economic pacing. In stark contrast with those scenes lies the kitschy and colorful world of OZ. This part of the film is way more frantic and houses most of the action and fantastical elements. In some weird way it also reminded me a little bit of Patlabor 2, as Hosoda follows an approach to untraditional warfare which is very similar to Oshii's vision.
While the length of the film isn't a big problem, the ending does become a little cheesy. There's a bit too much pulling together and cheering for one common goal. It works the first time around but when it is all repeated shortly after the film loses some of its winning mood and starts dragging a little. The outcome isn't all that difficult to predict anyway.
Still, there is plenty to like here. Hosoda captures many elements of other anime films and blends them to an enjoyable whole. The art style itself might not be as detailed compared to more recent films, there is still plenty of attention to detail left to be discovered in Summer Wars. From the actual animation to the behavior of the little kids, running around with their DSes, Summer Wars will come off as surprisingly recognizable, especially considering the heavy fantastical layer put on top of the film. A good entry point for those who haven't had too much prior experience with anime.