2012 / 100m - China
Fantasy, Action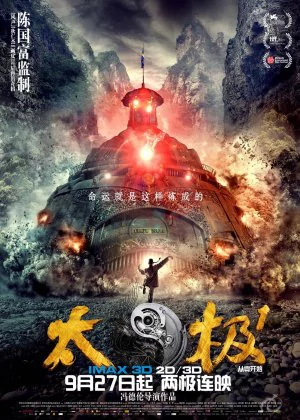 Hong Kong isn't planning on letting its martial arts heritage go to waste. The past few years we've seen a few interesting projects keeping the spirit of the golden years of martial arts alive (think the A Chinese Fairy Tale remake, 14 Blades or Tracing Shadows), now Stephen Fung is doing his part by releasing an entire trilogy of films. Tai Chi Zero is the first of the bunch and sets the stage for two more films of inspired and high octane fun.

First of all, Fung (or maybe the film's producers, not quite sure) deserves credit for the planned release schedule of this trilogy. Even though the film was broken down into three separate entries, you won't have to wait another year to catch the sequel. In fact, there was only 1 month in between the release of Tai Chi Zero and second installment (Tai Chi Hero), meaning you can watch them back to back by now. A smart move that won't drag out the hype of these films, I just hope other people in the industry are taking notice.
When I watched Fung's House Of Fury it left me quite unimpressed, so when this project was first announced I wasn't all that excited. Still, Tai Chi Zero promised to be the first steampunk/martial arts crossover and as the film seemed to be enjoying the benefit of a decent budget, I did keep one eye on where this was going. Having watched it, I must admit that Fung exceeded my expectations by a serious stretch.
Tai Chi Zero combines the lighthearted banter of the popular 90s martial arts films (Green Snake) with a more modern video game/comic aesthetic and a lovely injection of steampunk. Some people have been eager to point out the similarities between this film and Scott Pilgrim and while the comparison does make sense, I think it's one of those things that only clicks after having watched the film but would set the wrong expectations up front, so don't go in expecting too much from it.

It's clear that Stephen Fung had a sizable budget to work with. Steampunk isn't the easiest genre to bring to life, luckily he didn't let all that money go to waste here. The machinery looks damn detailed and impressive and cogwheels, handles and steam are omnipresent whenever something electrical whizzes across the screen. But maybe even more notable are the game and comic book-like additions that pop up left and right. Health meters, location indicators, KO signs, special move trackers ... add some animated sequences, mini biographies whenever a cameo flashes by and some slick and modern camera work and you have a film that plays like a visual rush.
The soundtrack hardly compares, featuring a set of rather lame and uninspired action-themed rock tracks. I'll admit that they aren't too bad while featured in the film, but it's hardly the score you would've wished a film like this to have. Also worth noting (for those watching the American trailer), even though these used some random dubstep track to liven up the trailer that particular piece of music is nowhere to be found within the actual film. Hopefully Fung makes some better music choices for the other two installments.
The film assembles an interesting mix of well-known actors and trained athletes to bring the story to life. Between names like Tony Leung Ka Fai and Angelababy in the bigger parts and Andrew Lau and Shu Qi in quick cameos, Fung still finds plenty of room to cast some true medal-winning martial artists. The lead role is reserved for Yuan Xiaochao, a 2008 champion who may lack acting experience, but more than makes up for that whenever things get rough. It's a fun and varied cast that isn't set out to win any acting prizes, but goes through great lengths to make it an enjoyable ride.

Tai Chi Zero is not high art, its intentions are purely focused on providing top-notch entertainment and that's what the film does best. It's been a while since I watched such an entertaining big budget production, which makes Fung's accomplishment all the more praise-worthy. The ending is satisfactory too, while teasing heavily for the upcoming sequel. It's a type of excitement that I haven't felt in a long, long time.
The release schedule, the economic running time, the use of superb athletes, the visual imagination and the overall first-grade production values make Tai Chi Zero one of the more entertaining films of 2012. Fung goes to great lengths to reinvent the 90s martial arts cinema and hits the sweet spot. I'm already pretty excited to watch the second intallment of the series, hopefully Fung can keep the momentum going. If he could only improve the soundtrack a little, this could turn out to be a landmark production.