2004 / 62m - Japan
Fantasy, Experimental - Anthology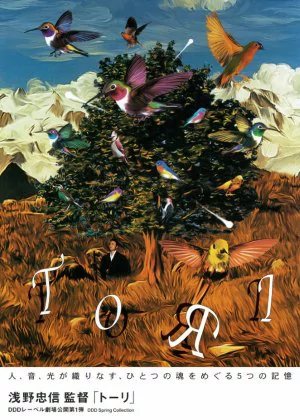 Back in the '00s, Japanese cinema was hot property, and one actor really made the best of it (with some low-key Hollywood parts as the ultimate reward). Tadanobu Asano wasn't your typical sell-out though, he was pretty punk and artsy, often venturing beyond the realm of acting. It's really no surprise he ended up directing Tori, an anthology film based on dreams he experienced. It's also no surprise the project was deemed a little too out there to receive international distribution. Luckily, it's a film that is low on dialogue, and the DVD wasn't all that difficult to get a hold of.

Back then Asano was in almost every Japanese film that mattered. He had a pretty quiet and mysterious aura, but he also had this rougher punk vibe about him. That combo allowed him to take on just about any role he put his mind to. When he joined Gakuryu Ishii's Electric Dragon 80.0000V project (and got involved in the broader production - Asano helped with the music and intertitles design) there was no doubt in my mind he would end up directing something by himself. An anthology is a great place to start for a budding director, but the result was never something that would appeal to a large audience.
Tori offers five short films, varying in length, each one wildly different from the next. They are based on Asano's dreams, and as such they follow unconventional dream logic (if any logic at all), with no real common ground to tie everything together. There's very little in the way of narrative, most shorts are just performances or stylistic mood pieces, but that's what makes this film so appealing to me. While only 60 minutes long, the film has a lot on offer and each short has a unique feel that seems to represent one aspect of Asano's being.
First up is the titular Tori (Japanese for bird). It's a somewhat abstract animation that reminded me a bit of Ohira's Wanwa (which is part of the Genius Party Beyond anthology). Not quite as evolved or impressive on the animation side, but the child-like art style and the vague plot (a bird seems to be on a magical journey that ends with a phoenix/rebirth moment) are definitely similar. It's not the most original short of the bunch, nor the most technically accomplished one, but it's a cute little opener that sets the mood for the rest of the film. 3.5*/5.0*

Asano ramps things up with his second short, Heart of Sword. Characters that seem to hold the middle between traditional ninja and Visual kei rock stars battle it out in a forest, but at its core lies a wild romantic tragedy. Again, it's a bit tricky to make out the exact plot as there is no dialogue and the film relies quite heavily on conceptual imagery, but as a mood piece, this is an absolute stunner. The washed-out colors, the amazing costumes, and the lovely snow-covered setting turn this film into something truly magical.4.5*/5.0*
Ato explores a more hip-hop-infused vibe. While Japan isn't really known for its hip-hop scene, there is a relatively strong underground representation that surfaces in mainstream media from time to time (think High & Low or Sono's Tokyo Tribe). Again, there's no real plot to speak of here, instead, you get a documentary-style short that focuses on the art of graffiti. The short sports a nice score, the editing and camera work have that typical hip-hop vibe and even though some might consider it more of a music video, I think Asano did enough to separate it from your average music ad.4.0*/5.0*
Next up is Two Men, Continued. The only short that needs subtitles, though I'm pretty sure that just the subtitles alone won't be enough for most. This is a little manzai sketch, a unique form of Japanese comedy that has two people performing a dialogue. I've seen subbed routines before and they are still uniformly baffling when you're not familiar with the rhythm and tone of manzai. I kinda got a feel for it over the years, but I'm hardly a fan and unless Asano made an effort to set this routine apart from the usual manzai bits, I don't think this short will do much to change my mind. Without subs though, there's no way of knowing, so just for this once, no score. ???*/5.0*

The final film is called Or, a dance routine set in front of a desaturated late afternoon sun. Dance scenes were quite popular back then so it's no big surprise Asano tried his hand at one. This is just music and dance, with the sun in the background acting as a natural dance partner. It's modern/interpretative dance, the music is soothing and even though the cinematography is limited, the shorts are set up meticulously. It's a nice short to finish off this anthology, not the strongest of the bunch, but still high quality. 4.0*/5.0*
Tori is an anthology for people who like mood pieces and non-narrative cinema. Tadanobu Asano shows he has a knack for combining cinematography and music to create warm, wholesome, and mysterious films, though they're not the most accessible ones. They're a bit too involved in contemporary culture to appeal to larger cinephile niches, personally, I consider that a major plus. It's not the easiest film to recommend, but if you like Asano's work and you're a bit adventurous when it comes to picking films, you really can't go wrong with this one. Just skip the manzai short, unless you're a native.