Kaza-hana
2000 / 116m - Japan
Drama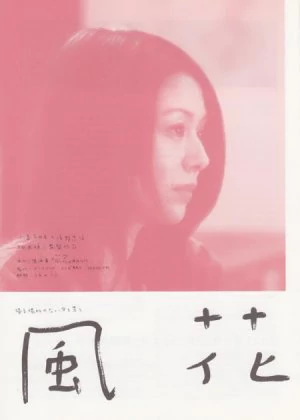 Umbrella Flower [Kaza-hana] may have been Shinji Sômai's swan song, for me it was one of my earlier run-ins with Japanese dramas. Back then I didn't really have an idea what these films stood for, but the stark styling, the introverted characters, and stand-out actors like Tadanobu Asano drew me right in. The genre has changed quite a bit these past two decades, and so have my viewing habits, so I'm always a bit weary to revisit these films. The more I do though, the more it becomes apparent that they have lost little to none of their allure. Umbrella Flower is no exception.

Shinji Sômai is one of those directors I should explore more in-depth, for some reason I never really got around to it. I picked up some random films here and there but considering his positive reputation, the relative ease of securing his films, and the lack of disappointments so far, he's a really obvious candidate to dig into. Rewatching Umbrella Flower may give me that final push I needed, as there's quite a bit here that really hit the right notes for me. Though it must be said, the film is also very much a child of its time, which makes me a little more hesitant to plow through Sômai's earlier work.
The Japanese dramas that were made around the turn of the millennium do have a pretty unique style and flavor. They mix a rather stark and minimalist aesthetic with enigmatic (but not always very sympathetic) characters, yet there's also a certain softness and dreaminess that provides a very nice counterbalance to the otherwise colder presentation. These aren't the most accessible films and usually require a bit more affinity with the arthouse side of cinema to get the most out of, but there's not much out there that offers this exact mix of ingredients.
Umbrella Flower revolves around Sawaki, the son of a famous politician. His life feels dulled and futile, which makes him act carelessly. After he walks out of a shop without paying, he finds himself in the center of a minor public scandal. His father has had it with his escapades, and demands he disappears from the public eye for a while. He meets up with an escort girl and together they decide to travel to Hokkaido. The woman has a child there she abandoned years earlier and hopes to renew her relationship with, Sawaki has nothing better to do than to hike along.

The cinematography isn't the best in the genre, but the film has a clean and stark ambiance that I do appreciate a lot. The snowy Hokkaido setting certainly helps the visual appeal, some touches of color add a little extra flavor and during the finale, Sômai cranks up the visual intensity. The cinematography isn't the most notable element of the film, but it is essential in establishing that particular turn-of-the-millennium Japanese drama feel I like so much. I'm not sure how much credit Sômai deserves for this (as he was basically just following a trend), but I'm not complaining.
The score is pretty minimal and sticks to what is expected of the genre. That means you're mostly getting ambient sounds, interspersed with light piano/string-based music. It's the type of score that is known to work, and it's almost impossible to fault. At the same time, it isn't terribly exciting, and I had to do a double take for this review. I'm probably demanding a bit too much from someone making his last film, still, I wish Sômai's would've been just a tiny bit braver when he worked on the music. There are plenty of Japanese dramas out there that got a much bigger impact from a similar soundtrack.
Films like these benefit greatly from a good cast, not in the least because the lead characters aren't inherently likable and their actions can come off pretty random and crude. It's a good thing then we have someone like Tadanobu Asano in the lead. He has that particular type of appeal that can make characters like these come to life and stand out. Kyoko Koizumi is good too, but not quite on the same level, the secondary cast is well fleshed out, with appearances from Kumiko Aso and Akira Emoto to look forward to. It's Asano who carries this film though, and he does it well.

Umbrella Flower takes a while to get going, not too surprising for this type of film. The start comes off a little fragmented, but it's these quick snapshots we get from Sawaki's life that will help to flesh out his character later on. I'm not sure if the jumps between different timeliness added a whole lot, but they didn't detract from the drama either. And the ending may be a tad different than expected, though that's something only the most hardened fans of Japanese dramas may pick up on (and I wasn't really mad at it either). In the end, I felt it's exactly these little differences that add a bit of extra spice to the film.
Shinji Sômai's latest isn't reinventing the genre, but Umbrella Flower is a welcome addition to a collection of films bound by a particular era, genre, and location. Chances are this is a film you have never heard about before, as its reputation is pretty limited, so the discovery potential is considerable. The stellar lead performance by Tadanobu Asano, the crisp styling, and the balance of delicate drama with some rougher edges turn this into a quality film. People who like early Koreeda should make this a priority, though actually getting your hands on the film can be a little challenging.