2010 / 75m - South Africa
Horror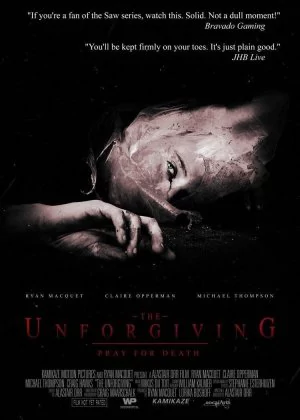 South-Africa might not have the most booming movie scene on the planet, from time to time some really interesting stuff is coming from over there. Just last year blockbuster District 9 stormed the world by force, now it's time for low-budget genre flick The Unforgiving to make a name for itself. World domination may be out of reach for this film, but signs of a respectable cult audience are lurking right around the corner.

Director Alastair Orr must've had a clear vision when he started with this film, as it's been quite a while since I've seen a horror flick this bold and brash. From the very first frames Orr seems very much in control of his film and he doesn't let go until the final frames have disappeared from the screen. This definitely increases the love or hate factor of The Unforgiving, but I prefer that over middle-of-the-road cinema everyday.
The concept of the film is pretty simple and straightforward. The Unforgiving starts off with a cop interrogating two surviving victims of a rampant serial-killer. The police has been chasing him for quite some time now, but this is the first time he's left them some clues. From there on the story is told in a way that reminded me a little of Nolan's Following, with regular scenes, flashbacks and flash forwards all mangled up without any indication of which is which. Only time will tell how everything fits together.
Of course you can expect a twist, halfway through the film I was struggling a little to keep up with all the information, but as is usually the case with these kind of films, all you need to do is wait for the ending and at least the crux of it will be properly explained. For more details, a second viewing us usually required. Orr handles it quite well, though I wasn't really blown away by the main twists here. Pretty standard stuff compared to others films out there.

The Unforgiving is a prime example of the digital aesthetic. Very sharp contrasts and strong colors create a harsh yet pleasing image quality that goes very well with the rest of the film. Quick motion and lots of moving on-screen elements (like rain, or running the camera through high grass) result in a somewhat abstract, almost animation-like effect. It won't be to everyone's liking, but I found it very impressive indeed. But most striking are the many close-ups of the character's eyes, which leave a lasting impression. Pretty awesome alright.
Even more striking is the soundtrack of this film. Orr doesn't want to play it subtle, the whole film sounds like one big climax. Usually I'm not a big fan of overblown music, but Orr makes it work. It's not that the music is constantly epic or loud, but at least once every five minutes a sprawling atmospheric climax is reached. Once again this might put people off, if you like subtle this film probably isn't for you in the first place.
The acting performances are a little fickle though, Macquet doesn't look quite at ease in front of the camera and can't really shape his character. Thomson and Opperman do a pretty decent job, the direction of Orr does the rest. Overall the acting suffices, but it would've been nice if the lead had been a bit more convincing. It's not a film that demands too much from its actors and their performances aren't crucial, but Orr shouldn't have had to work so hard to compensate.

The Unforgiving is a pure genre flick, making it pointless to even begin and cite possible influences. Most surprising though is that the look and feel of the action is somewhat reminiscent of Tsukamoto's Tetsuo: The Bullet Man. A dangerous comparison as The Unforgiving completely lacks the cyberpunk aesthetic, but Tsuka's shaky camera work to enhance the character's emotional state of mind felt like a natural influence to me.
Orr does a good job of injecting some sense of mystery and succeeds pretty well at keeping you in the dark, but beyond that's there's little new or original to be found here. It's all in the execution and that's where Orr succeeds magnificently. If you want something fresh and novel, better leave this one on the shelf, but if you're looking for a prime example of low-budget genre-film wizardry, this will be amongst the best of 2011.
If you're up for a no-bullshit horror/thriller, you can't really go wrong with The Unforgiving. Just accept the fact that director Orr isn't beating around the bush and will sell his film with all the might he's got, and what you'll get is a film that packs quite a punch and keeps the adrenaline high through the entire running time. Genre cinema at its best, I'm eagerly awaiting Orr's next project.