Verónica
2017 / 81m - Mexico
Mystery, Thriller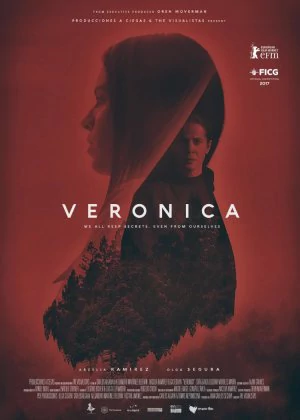 Sometimes, picking up a great film is just pure, unfiltered luck. Carlos Algara and Alejandro Martinez-Beltran's Veronica [Verónica] ended up being the wrong Veronica. I was in fact hoping to see Paco Plaza's film (of [rec] fame), instead this Veronica turned out to be a Mexican movie also released this year. It also turned out to be a very moody, stylish and crafty mindbender that slowly crawled its way under my skin. I didn't quite see that one coming.

The South-American genre film has been gaining momentum for a while now, with Mexico in particular being one of the front runners. Directors like Isaac Ezban (The Incident, The Similars) and films like Come Out and Play and Honeymoon have been paving the way for a promising generation of Mexican genre talents. Algara and Martinez-Beltran represent a slightly more arthouse-like side of that movement, but the core of Veronica is very much traditional genre fare.
Veronica is a rather short film with a narrow focus. It was (more or less) shot at a single location and features just two actresses. It's clear from the very beginning of the film that something is not quite right, but the directors still managed to mask it pretty well. It's the kind of film that starts off a slow burner and tries to lull its audience in a trance, just to shake them awake during the final act. What sets it apart from similar-minded genre films though is its hyperstylish black and white photography.
The film tells the story of Veronica, a troubled young girl. After several failed sessions with various doctors, she is sent to a female psychiatrist who operates from a cabin in the mountains. While the psychiatrist waits for Veronica's medical files to arrive, she jumps the gun and starts the treatement, hoping to find out what trauma is haunting this young girl. But Veronica turns out to be a smart girl and before long she starts messing with the head of her psychiatrist. As both women struggle for dominance, reality starts to fade.

The visuals are by far the most eye-catching aspect of the film. Shot in clean, ultra sharp black and white and with a largely unshakable camera, Veronica makes a stylish first impression. The camera work is impressive, especially when the camera is on the move. I did feel the static shots weren't always as slick as they could've been. It's a small hiccup, but with a look this crisp and delicate, perfection is expected. Overall the effect is stunning though and the visuals add a level of finish that is rarely seen in modern day genre films. It's somewhat of a risky choice as not everyone is going to appreciate the stark black and white photography, but I thought it was extremely successful.
The soundtrack is also on point. It's not so much a collection of tracks as it is a constant and dense amalgam of sounds, rhythms and music that helps to create a subtle yet ultimately suffocating atmosphere. The build-up is precise and accurate and works over the entire span of the film, not just within single scenes. The soundtrack itself isn't even that original, featuring moody music and darker, slightly industrial sound effect, but the way it works itself through the film sets a great example for other film makers.
And the acting too is top notch. Quite necessary for a film like this, which is pretty subdued and spends all its time with just the two main characters. There are one or two flashbacks that feature a couple of extras, but it's really just Olga Segura and Arcelia Ramírez doing all the heavy lifting. Both are splendid in their parts and constantly feed off each other. Sofía Garza has a small part and copes well with the little material she has, but her contribution is hardly substantial.

The first hour of the film is rather slow, but meticulous. Little by little the balance between patient and doctor shifts and the film deliberately builds up to its final reveal. But the moment you feel you're getting a grip on the film's reality, Algara and Martinez-Beltran flip a switch and start their rush to uncover the truth. While the twist itself isn't anything too novel or original, the contrast between the pacing and the change in tone is another element that helps to set Veronica apart from similar films.
At its very core, Veronica is a rather simple and mousy little headfuck. But the execution is smart, stylish and honed to perfection. It's a film that casually sinks its hooks into your skin, crawls underneath and paralyzes you throughout its finale. After a series of short films, Algara and Martinez-Beltran deliver a confident, stream-lined and meticulous first feature, one that begs for a confirmation in the form of a second film. For now though, don't let this one slip by.