Un Long Dimanche de Fiançailles
2004 / 133m - France
Romance, War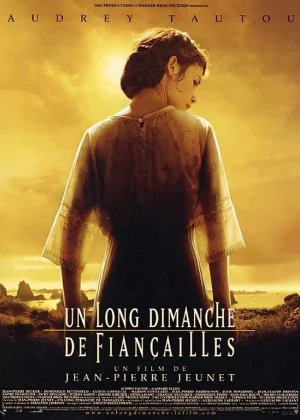 Three years after the release of Amélie, Jean-Pierre Jeunet was ready to launch his next film. It's never easy following up a success as big as Amélie, but Jeunet left no stone unturned to make sure A Very Long Engagement [Un Long Dimanche de Fiançailles] wouldn't end up disappointing his newfound fans. Though not quite the unique and creative film Amélie was, A Very Long Engagement oozes quality, which is probably why it's still a pretty magnificent film almost 20 years later. I couldn't remember too many specifics, but that just made revisiting the film a lot more fun.

A Very Long Engagement is probably Jeunet's first film that does away with his darker streak completely. Not that Amélie wasn't anything but charming and lovely, but even that film had a few darker comedy moments. Though A Very Long Engagement is set during the war and covers some of its battles, the film uses these scenes to mine drama for its romantic premise. Jeunet makes sure to keep things light and breezy, which is quite a feat considering the topic of this film, so people familiar with his style should have a pretty good idea of what to expect.
Following up a big hype is always tricky, but it also comes with some major perks. It was clear that everybody was eager to work with Jeunet on this film, so for every aspect of A Very Long Engagement he was able to enlist some big industry names. That's not always a guarantee for success, but because Jeunet remains quite close to his signature style and simply uses the extra budget to solidify the quality of the production, it never feels like he was selling out to please a broader audience. Probably the greatest trap for directors in his position.
The plot revolves around a blossoming relationship that is cut short because of the war. Though Mathilde is willing to wait for Manech's return, word reaches her that he was sent to the battlefield to die. His body was never recovered, and Mathilde doesn't want to give up hope just yet, even though her guardians want her to move on with her life. She uses the money her parents left her to investigate what exactly happened on Manech's last day, in the process uncovering several other remarkable stories. Each new lead and story brings her a little closer to the truth.

With the extra budget to his disposal, Jeunet was able to go absolutely wild on the visuals. They're not quite as expressive compared to his earlier films, but the level of detail is truly astonishing. The war scenes use a darker, dirtier color palette, but it's the sepia-colored segments that are sure to etch themselves on your retina. The minute color grading gives the visuals such a lush and warm quality that they form the essence of the film's atmosphere. Even 20 years later, they haven't lost an ounce of their original appeal, and they hold up both technically and aesthetically. Not many films can claim such a feat.
Though the music isn't quite as distinctive, Jeunet was able to land Angelo Badalamenti to do the score. Badalamenti is best known for composing some of Lynch's most iconic scores, and the quality of his work is consistently high. While A Very Long Engagement could've used a slightly more memorable main theme or hook, the soundtrack is moody and stylish and always manages to highlight and strengthen the right emotions for each scene. It's a perfectly balanced score, though considering the talent involved, I do believe the potential was there to do even better.
The cast is a veritable who's who of the French acting world. Jeunet mixes respected regulars (like Dominique Pinon and Audrey Tautou) and future superstars (Gaspard Ulliel and Marion Cotillard stand out) with established and decorated talents (Jodie Foster and Albert Dupontel) to create one of the most impressive casts I've seen in a French film. Not everyone gets as much screen time and some parts are pretty minor, but having qualified actors for every position is a welcome luxury. The primary focus lies with Tautou, of course, she already demonstrated in Jeunet's previous film that she can bear the weight with ease.

Where a film like Amélie focused more on funny, quirky yet oddly recognizable details and allowed itself a bit more leeway with the plot, A Very Long Engagement is a slightly more singular experience. It's probably Jeunet's biggest concession in trying to appeal to a broader audience. The quirkiness is still there, just in smaller and more concentrated doses. The plot is still pretty elaborate, and it could've used a bit of tightening to bring the runtime down 15 or 20 minutes. The film never drags, nor does it ever feel dull or forced, but it does get just a little monotone as the film progresses.
A Very Long Engagement is a more than worthy successor to Amélie. The film isn't quite as good, but the way Jeunet avoids most common pitfalls is laudable. The result is a very stylish, lovingly crafted romance that carries Jeunet's signature, offers quality in every department and should appeal to a broad audience without feeling too generic or dumbed-down. It's not as dark, edgy or imaginative as his earlier work, but that was never really in the cards. Instead, Jeunet made a film that could please both longtime enthusiasts and newfound fans. An easy recommend for anyone who hasn't seen it yet.