2017 / 97m - Hong Kong
Drama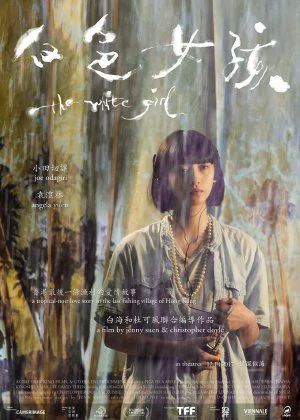 Throughout the years, famed cinematographer Christopher Doyle made a few notable acting cameos and even tried his hand at directing a couple of times. While that yielded some interesting films, they never quite matched his work as a cinematographer. The White Girl is Doyle's latest attempts to follow in the footsteps of the legendary directors he's worked with. Co-directing the film with Jenny Suen (the producer of Doyle's latest film), it seems like he finally struck gold. While no doubt a little too impenetrable for many, this is Doyle's first masterpiece as a director.

Doyle is one of the select few cinematographers who managed to attain any kind of name recognition beyond dedicated film fandom. Mainly because he had a serious hand in the popularity of Kar-Wai Wong's films, who considered Doyle his go-to cinematographer, but also because he helped some other big name directors (think Kaige Chen, Gus Van Sant, Yimou Zhang, Pen-Ek Ratanaruang, ...) realize some of their best work. Doyle's visuals have a romance and sense of style that blends classic beauty with modern techniques, but so far he'd been unable to elevate his own films in the same way. The White Girl changes that.
The film is a rather impressionistic tale about three peculiar characters who meet up in Hong Kong's last remaining fishing village. While there are a few clear plot lines, this isn't an overly narrative film, with Doyle and Suen regularly spending more time on capturing the mood of the setting and their characters, rather than simply advancing the story. It's a familiar trait for fans of Asian drama cinema, but the last decade has seen a steady decline in these types of films, in favor of more narrative/character-driven features. Doyle serves up a convincing reminder that there are other ways to tell a story.
Even though the film keeps track of three protagonists, the titular White Girl is the primary character of the film. A girl who is allergic to direct sunlight, a condition which seriously hampers her social life. The only person who treats her like a normal person is Ho Zai, a kid who runs around the neighborhood, but is a little too young to fully understand her problems. Things change when one day she bumps into Sakamoto, a mysterious squatter who stays in an abandoned house near the village. The two have an instant connection, even though they don't speak the same language and verbal communication is very limited.

Over the years I've seen many films where Doyle's contributions made a sizable difference, so naturally my expectation were high. Even so, the cinematography in The White Girl exceeded them effortlessly. The framing is exquisite and the color palette is both functional and aesthetically pleasing, but it was the extreme sharpness and detail, combined with livid color contrasts in the almost monochrome visuals that really struck me. It's definitely colder and not as comfortable and easy-going as some of Doyle's best recognized work, but it's every bit as stunning.
The soundtrack is pretty interesting too. Not quite unexpected or atypical for a more arthouse-oriented drama like this, but definitely unique and leading enough. It features a number of songs with non-lexical vocables (i.e. la-la-la singing) that do stand out and give the film a very distinct flavor. In combination with the visuals it makes for a very soothing, somewhat mysterious and often dreamy atmosphere, exactly the thing that makes these kinds of films so precious.
From the three principal actors, the young Jeff Yiu had the easiest role. He has a pleasant presence and brings some life to the film, which is pretty much all that was expected from him. Angela Yuen had the most challenging part, especially considering her limited experience in film. She's a real find though, as she easily holds her own next to Jo Odagiri, who plays the mysterious foreigner. Odagiri is one of Japan's most talented contemporary actors and is his usual enigmatic but alluring self, to be able to match that is quite a feat for Yuen. The rest of the cast is solid too, especially Kin-Ping Leung, who offers a more than solid performance as Yuen's father.

When the film nears its finale, the narrative focus tightens a little, so certain things can be wrapped up neatly. I have to say that it felt just a little forced, then again it's a concession that does make this film a tad more accessible. For me personally, it wasn't necessary at all and I'd been just as happy with a more open ending, but in the end it didn't really bother me all that much. This is still first and foremost a mood piece, where the focus lies on the characters within their environment, less than on outside narrative influences.
Suen and Doyle make an excellent directing couple and it's clear that they found a way to mutually benefit from each other's strong points. The White Girl is a delicate, soothing and exquisitely shot drama that lets its characters breathe, while still offering enough emotional depth and intrigue to make it more than a simple exercise in style. It's a shame this film didn't receive more international recognition, because films like these, especially from the Hong Kong and China area, are growing harder and harder to find. If you like subtle Asian drama, make sure to give this one a fair chance.