Hohokekyo Tonari no Yamada-kun
1999 / 104m - Japan
Comedy - Animation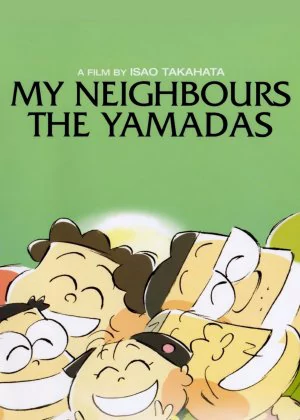 While definitely the most popular anime studio out there, Ghibli isn't really known for innovation or taking risks. When it wants to experiment with new styles and techniques it usually limits itself to short films or music videos, My Neighbors the Yamadas [Hohokekyo Tonari No Yamada-kun] is a very welcome exception to this rule. Don't fool yourself by the film's exterior simplicity, My Neighbors the Yamadas is a wildly different film coming from Ghibli's co-founder Isao Takahata.

Admittedly, Miyazaki (My Neighbour Totoro, Ponyo) is probably the main reason why many Ghibli films appear to be quite similar in tone and style. Takahata's range is broader, and he usually signs for the more daring films coming from the Ghibli studios. Not only is My Neighbors the Yamadas weird and unusual for Ghibli's norms, it was also the first Ghibli film that was made completely digital. Ironically it's also the Ghibli film that looks the most hand-drawn of them all.
My Neighbors the Yamadas is based on the Nono-chan manga, which mostly consisted of 4-panel gags. The film somewhat mimics the structure of its source material by forgoing a typical storyline, completely leaving out a dramatic arc and focusing more on individual vignettes. My Neighbors the Yamadas plays like a selection of slice-of-life sketches, some funny, some endearing and the best ones combining these two sentiments.
The film is basically one big encounter with the Yamada family. Takashi and Matsuko are the stronghold of the family, Shige is Matsuko's old mother and acts a bit funny from time to time. Then there are Noburo and Nonoko, the kids of Takashi and Matsuko. The five of them each have their individual quirks, their ups and downs, but mostly the Yamada family is pretty happy living together, casting off a warm and recognizable feel-good vibe.

On a visual level My Neighbors the Yamadas is a tough nut to crack. At first glance the style looks simplistic, even boring maybe. But soon you start to fall for this simplicity and you can't help but notice the superb detail that went into the drawings and animation. Especially the latter is of unseen quality. While the family members often consist of 10 strokes max, the details of their movements appear to be more human than most advanced CG created animation puppets ever could manage. Definitely one of Takahata's strong points. The watercolor style remains consistent throughout the film, although from time to time Takahata plays with the amount of detail to create some richer images. If you ask me this is still Ghibli's visual masterpiece, no matter how rich and detailed Miyazaki's later films may be.
The soundtrack too is lovely and fitting. A collection of upbeat, peaceful and quirky songs lighting up the atmosphere. From the sing-a-long Japanese version of Que Sera, Sera to the incredibly catchy humming track, the score is as much part of the film as its stand-out visuals and even persists to invade your brain long after the film has ended. Voice acting too is top-notch. The voices really fit their characters and together with the detailed animation they flesh out the simple drawings into a real family.

My Neighbors the Yamadas delivers two hours of perfect, feel-good entertainment. But it's not just some quick laughs, the film harbours a warm, generous and complementing heart that celebrates the ups and downs of family life. It's filled with recognizable moments and situations which will make you smile just because they are so familiar and life-like. The Yamadas have all the peculiarities and weird quirks that make them like every other (normal) family out there. Just don't go in expecting a fully fledged storyline because you'll be disappointed to find there is just nothing there.
My Neighbors the Yamadas is a film often overlooked by Ghibli fans (and anime fans in general) just because a simple screenshot cannot capture the amount of love and detail this film houses. The animation is exceptional, the music a blast and the film consists of one big succession of memorable moments. It's my favorite Takahata and Ghibli film and one that I can watch again and again without it losing any of its initial charm. A true recommendation for animation fans everywhere.