1927 / 110m - USA
Drama, Romance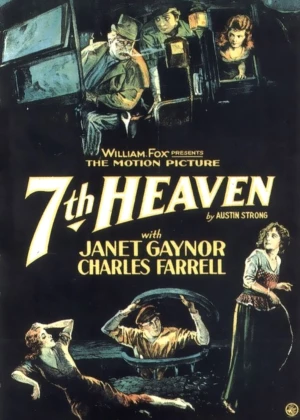 Silent romance that shares the same lead as Sunrise (Janet Gaynor), no doubt the most infamous romantic film of the silent era. 7th Heaven isn't quite on the same level, the war intermezzo detracts from the core and things get a little too sentimental and religious, but it's still better than many of the talkies that would pop up in the next decade.
Chico is a poor plumber who only wants two things out of life: a better job and a woman to love dearly. His second wish is granted when he meets Diana, a lovely young girl who is running from the law for a minor mishap. Chico gives her shelter and the two fall in love, but then war breaks out.
The plot isn't too original and the war scenes in the second half feel like conscious filler to pad the runtime. I would've preferred a shorter film with a serious portion of the melodrama cut out, but the romance is pretty solid and there are a few memorable moments scattered throughout. Not too bad.