2015 / 85m - Japan
Documentary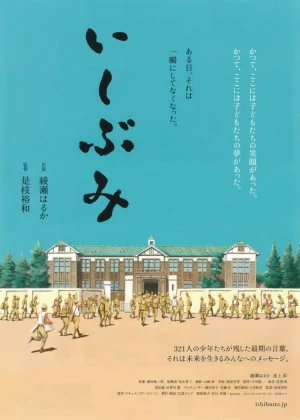 I tend to like Koreeda's feature films, his documentaries are a lot tougher to stomach. It's a bit surprising because Koreeda's best films are the ones where he draws very natural performances from his cast, even so his documentaries tend to feel somewhat forced and poorly constructed.
Ishibumi tackles the Hiroshima bombing, no doubt Japan's biggest scar of the past century. Koreeda decided to rework a classic TV program for this, but in order to keep thing intimate he has actress Haruka Ayase read the script. About 75% of the documentary is just that, the other quarter is filled with street interviews, though these are mostly situated near the end.
It's a baffling structure that doesn't work at all. The reading is actually quite entrancing, though is interrupted by people reorganizing the stage where Ayase is reading. The interviews intersect at poorly chosen moments and pierce through the meticulously built up atmosphere. Some parts are pretty effective, but as a whole it's quite awkward.