El Tiempo de los Monstruos
2015 / 97m - Spain
Mystery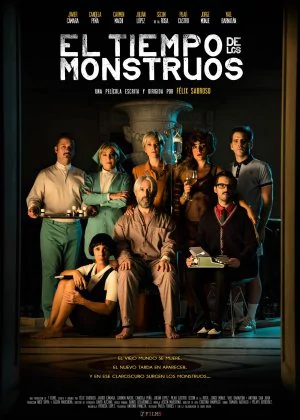 A very conceptual mindfuck. It's been a while since I last watched one of these, which probably means they've slowly gone out of fashion. At first Age of Monster looked as if it would neatly fit this niche, but a surprising twist halfway through adds another layer of puzzlement and makes the film quite hard to read.
A group of friends and familiars come together to shoot a film. Their get-together is the plot and they themselves are the characters, but they're also consciously aware of this setup, which turns all the conversations and events very meta. So far, so good, but things get really weird when the film starts to reference other films with similar construed setups (i.e. The Exterminating Angel).
I really appreciated that extra layer as it adds something novel, my biggest gripe with this film is that the presentation is a bit too basic. The cinematography is nice enough and the score is decent, but too much is communicated through plain dialog and the styling never reaches the heights you'd expect from a film like this. The result is a bit too labored and dialog-driven for my taste, but if you love a good mindfuck it comes well recommended.