Araburu Tamashii-Tachi
2001 / 150m - Japan
Crime, Drama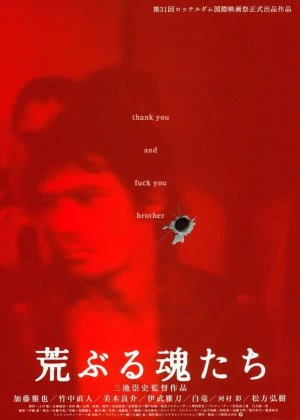 If you like hardcore Yakuza flicks, this is the one Miike you should watch. In the West most people aren't too familiar with this side of Miike, fans of Yakuza films on the other hand know that Miike can direct a mean crime flick. This is probably his longest and most detailed one, carried by an amazing duo.
The actions of a loose canon cause a big Yakuza war. Egos are hurt, bonds are inevitably broken and takeovers are on everybody's mind. In this broad power struggle, a small group is trying to keep alive and come out the winners, but they have enemies in every rank and survival is near impossible.
Mickey Curtis and Naoto Takenaka are both excellent. The presentation is relatively dim and uninteresting, but the strong performances, the detailed depiction of the power struggles and the overall coolness make this a very worthy crime epic. Not quite my type of film, but in its niche one of the better ones I've seen.