Always Zoku San-chôme no Yûhi
2007 / 146m - Japan
Drama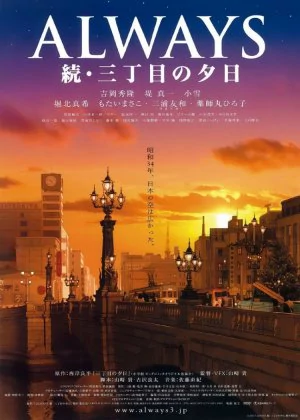 Yamazaki's Always series is a bit of an oddity in Japanese cinema. It's pure 50s/60s cinema schmaltz, a smugly exaggerated look at an era long gone that thrives on nostalgia. What's more surprising though is that the film is actually pretty successful, even for people like me who are somewhat immune to nostalgia.
The story continues where the first film left off. The people living in Third Street are still dealing with all sorts of problems, big and small, but eventually the film settles on Chagawa, who is facing increasing pressure to provide for his young ward Junnosuke. Chagawa doesn't have the money to give him a good education, so he decides to take up writing again, in the hope of winning a cash prize for his work.
Performances are nice, Yamazaki's direction is on point and the sets look charming, though the use of CG is quite apparent. It's a sweet, jolly and endearing film, only the runtime is a little excessive. This should've at least been a half hour shorter, now some parts drag a little too much. Apart from that, a fun and charming film.