Kimi to Wakarete
1933 / 64m - Japan
Drama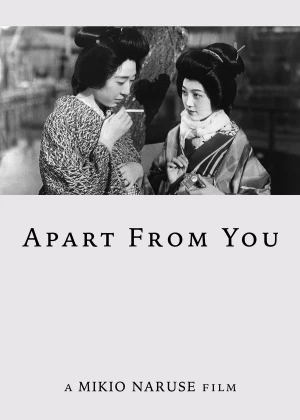 My first Mikio Naruse. He's a well-respected name in arthouse circles, but he didn't make it quite as big as some of his peers (people like Kurosawa, Ozu, or Mizuguchi). This was one of his earlier works (a silent too), so it's a little hard to draw any definite conclusions, but I can't say I was a big fan.
An elderly geisha has lived a pretty tough life already, but more troubles await. Her son is reaching puberty and he's starting to revolt against her. Meanwhile, a young geisha is put under her care. She's been placed there by her family against her will, and she's not looking forward to becoming a prostitute.
The drama is pretty basic, the cinematography is bland and the pacing is relatively slow. For its time it's not a terrible effort, it's just very plain and boring. It's a good thing Apart from You is pretty short, but even that can't really save the film. I didn't really care for any of it, but I'll give Naruse a few more chances.