1956 / 175m - USA
Adventure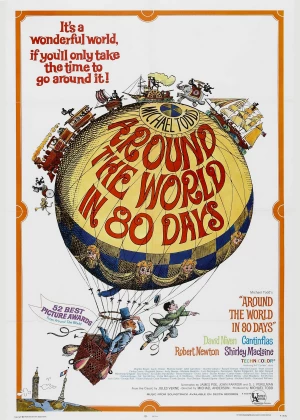 This could've been a lot more fun if it hadn't felt like it lasted about 80 days to finish this film. It's essentially a very simple adventure flick, based on the famous Jules Verne novel. With some trimming down this could've been just that, but at almost three hours long, there's just way too much cruft.
The plot isn't any more complex than the film's title suggests. A wealthy adventurer makes a bet with some fellow club members that he can travel around the world in 80 days, using his ultramodern airship. With his trusted companion, he prepares his journey and off they go.
The film certainly looks the part and the various places they visit are fun enough, but all it that could've been done within a span of 90 minutes. The extra runtime is wasted on pointless dialogue and excess footage that should've remained on the editing floor. Not the worst classic though.