Jing Xin Dong Po
2004 / 88m - Hong Kong
Mystery, Thriller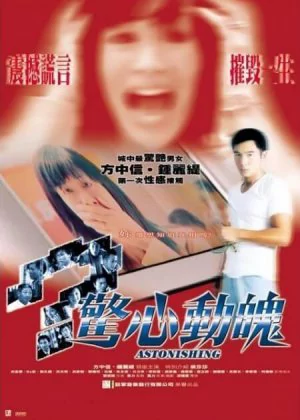 Herman Yau is a capable director, but the man needs a budget to thrive. Let him nickle and dime a mindfuck film like Astonishing, and the result is pretty poor. The plot sounded promising enough, sadly, the film lacks atmosphere and some half-decent performances to succeed. The result is little more than filler for only the biggest Yau completists.
When Mandy celebrates her wedding anniversary, she falls asleep in the middle of her party. When she wakes up, everyone is gone, and on the way home her cab is involved in a traffic incident. Mandy regains consciousness in the hospital 10 days later. She doesn't recognize anybody, and everyone calls her Fiona.
The setup is more than sufficient, but Yau really struggles to make an impact. The cinematography is dull, the soundtrack is underused and the film is terribly predictable. It's not a very long one and the pacing is okay, I'm certain a modern-day Yau would do much better with the same premise, but back then this type of film simply wasn't for him.