2012 / 76m - Japan
Animation, Horror, Fantasy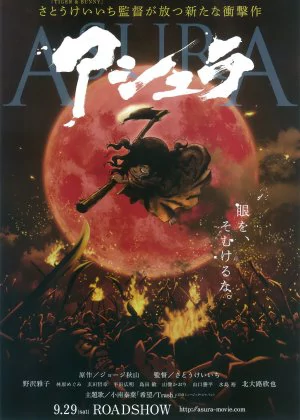 Director Kei'ichi Sato (of Karas fame) returns with Asura. The film is an adaptation of a 70s manga that sparked quite a controversy when it was first released, due to some rather graphic cannibalistic content. Don't expect an average tentacles and gore horror anime though, as the story of Asura is surprisingly timid and humane.
Asura is young kid, part man, part beast. Left behind in the Kyoto wastelands at a very young age, he has learned to survive under barren conditions. He is an outcast of society and doesn't hesitate for a moment when all there is to eat is a passing fellow human being. Until one day he runs into Wakasa, a young girl who is the first to treat him like a real human. Asura has trouble leaving the beast in him behind though.
To be honest, the story is of the yada-yada variation. The film lacks emotional strength and even though it doesn't outstay its welcome with only 72 minutes on the clock, it does drag a little in places. You'll be wanting to see this film because of the awesome art style and the stunning blend of CG and traditional animation though. Sato created another technical marvel, there are a few moments where the CG is just a tad too apparent but otherwise the blend is pretty much perfect and makes for a very moody and grim atmosphere.
It's a shame the film itself isn't as slick as its visuals, but Asura is definitely worth a look if you like your animation a little different.