Sanma no Aji
1962 / 113m - Japan
Drama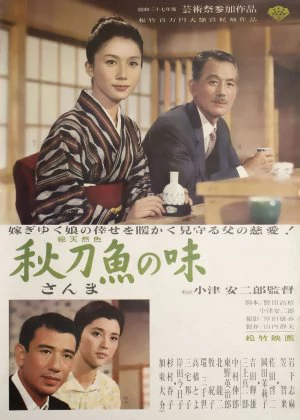 Ozu's final film. It also feels like a film from a director who is nearing the end of his career, though Ozu died relatively young and his films were never the most dashing to begin with. Avid Ozu fans will surely find a lot to like here, the strong focus on aged characters and old-fashioned morality just wasn't really to my liking.
Shuhei is a widower who lives together with his daughter. He fears that his daughter is sticking around to take care of him, and that by doing that she will be missing her window of opportunity to find a husband. So Shuhei takes it upon himself to find his daughter a suitable suitor.
The static cinematography and elderly cast work against the film. This kind of minimalism isn't easy to pull off, when it gets a bit too sentimental and rowdy the effect simply isn't there. There are some decent moments and the drama is proper enough, I just didn't care enough about the theme, nor the characters.