Uchu Daisenso
1959 / 90m - Japan
Sci-fi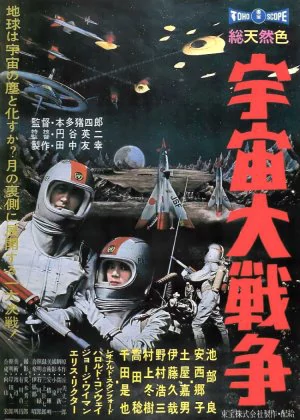 I'm not sure whether spectacular is the right word, with so much obvious model work involved, but Battle in Outer Space is of Honda's bigger undertakings. There are lots of space scenes and the film has a strong focus on action, sci-fi and adventure, keeping the drama and conversations to a minimum.
Earth is under attack. An alien race has settled itself on our moon and is trying to take over our planet from there. All nations on Earth unite and they devise a plan to drive the aliens back. That's easier said than done, as the aliens have a strong fleet and they are able to mind control some of our crew.
Battle in Outer Space looks surprisingly competent for a Honda film, that doesn't take away that you're clearly looking at small-scale models. Don't expect realistic-looking space battles here, but if you appreciate the charm of Honda's trademark model work then there's plenty to enjoy. After a somewhat slow start, the film really delivers a barrage of pleasant cheese.