2018 / 119m - USA
Romance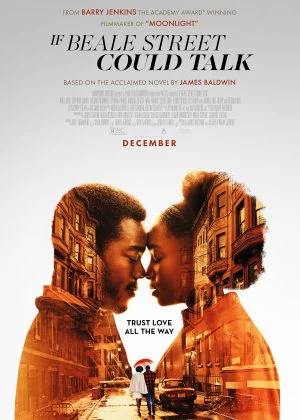 A nice step up from Moonlight. I wasn't that impressed with Jenkins' Oscar winner, for all the positivity that surrounded that film it ended up being a pretty basic Oscar winner. With If Beale Street Could Talk Jenkins shows that if he continues to refine his style though, there's definitely potential for a true masterpiece.
The film follows Tish and Fonny, two lifetime friends who end up in a loving relationship. Fate hits when Fonny is jailed for raping a woman and Tish turns out to be pregnant. Tish and her family do their best to prove Fonny's innocence, at the same time she has to try and survive as a single mom.
Stylistically this was pretty nice, though it stops short of being great. The cinematography looked very polished, the soundtrack was solid but a bit inconspicuous. Performances are solid and the romance felt warm and sweet, sadly Fonny's subplot doesn't add a lot and detracts from the film's strong points. Still, Jenkins is moving in the right direction.