1938 / 100m - France
Crime, Thriller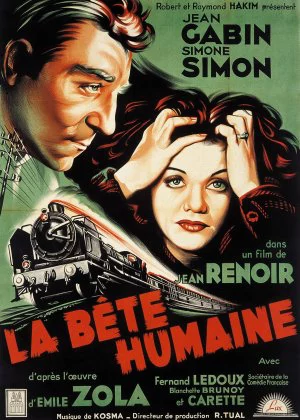 The film didn't start off too bad, but like too many films from the 30s, the narrative and dialogue get in the way of a decent watch. The cinematography is interesting and expressive, the narrative is pretty boring and the bland dialogues just slow things down even further. Not the worst of its kind though.
When Roubaud hears Séverine, his wife, is sleeping with her boss, he simply can't stand the idea, and he forces his wife to join his murderous plans. Their mission is a success, except that there is a witness who saw Séverine kill the man. To make sure he doesn't talk, she also starts an amorous relationship with the witness.
The stark black and white cinematography is nice enough, and it's clear that Renoir made an effort to elevate it. Sadly, the plot is boring, so are the characters, and the soundtrack feels terribly out of place. The film starts off pretty decent, but once the noir elements find their way into the film, the quality takes a dip.