2022 / 111m - France
Comedy, Sci-fi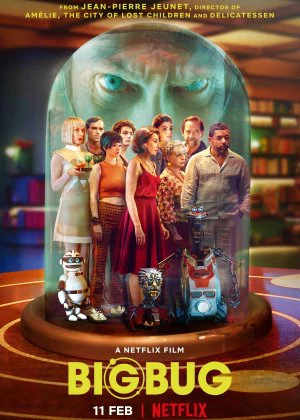 Big Bug is Jeunet by way of Verhoeven. A sci-fi pastiche, but with a quirkier and softer edge. It's an odd film that never really finds its footing, at the same time it's a one of a kind project and a welcome alternative to many other sci-fi films that fail to deliver a more serious take on the subject.
A ragtag group of characters finds themselves locked inside a house, while androids are seizing control over the country. Escape proves impossible, and their situation becomes more troublesome with every passing minute. No matter what they try to better their situation, the computers have them beat every time.
A Robocop-like bad guy and cynical adverts reference the work of Verhoeven, the kitsch styling feels more like a sci-fi take on Ozon's 8 Women. It's nice to see Jeunet return with a new film and Big Bug certainly has its moments, but it's a bit too safe and pleasant to leave a strong impression. Some nice designs and quirky plot twists make this a worthwhile watch, just don't expect prime Jeunet.