2020 / 98m - Australia
Horror, Thriller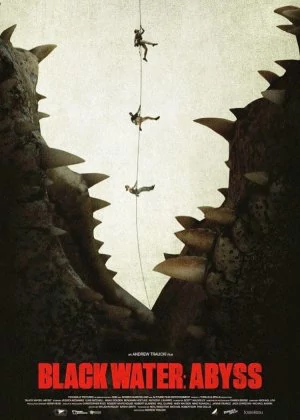 Andrew Traucki is known for his animal-based horror films. Sharks, leopards and crocodiles usually terrorize a small group of people, some of which will escape, others will suffer a more grisly fate. Abyss is Traucki's first sequel though, where he revisits the crocodile terror, a niche that hasn't seen too many new entries of late.
Originality isn't one of the genre's strong points, the only thing Traucki adds is a little cave action. A group of people stuck in a cave is popular material in itself, but with a giant crocodile on the hunt for tasty snacks things gets a lot hairier. When the cave is flooded and everybody's stuck inside, the countdown can begin.
Abyss isn't a terrible film, but it lacks the tension and engagement to put you on the edge of your seat. It's a little too predictable, and when it's not it becomes a little too silly. There's also some pointless drama that drags the film out longer than necessary. If you're looking for some crocodile action though, there are worse options out there.