Mugen no Jûnin
2017 / 140m - Japan
Action, Fantasy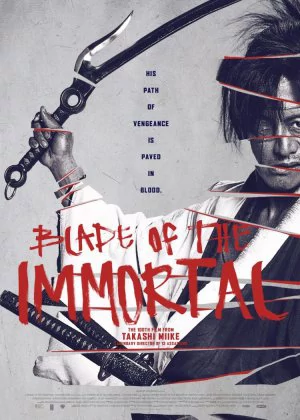 My expectations for Blade of the Immortal weren't as big as for other recent Miike projects. The hyped up Miikes are usually a bit tamer (especially nowadays) and his samurai films rarely end up among my favorites (Izo being the notable exception). I was still looking forward to watching it though, Miike is after all one of my personal favorites.
Blade of the Immortal isn't a bad film, but it's not a film that screams Miike. No weirdness, no crazy ideas, no what-the-fuck moments. It's a film that could've been directed by just about anyone really, except that's a bit more violent that your average samurai flick. And even that was a little exaggerated.
There's a high enough body count, but it's just regular hack & slash action, with people falling down rather quickly. It doesn't get much crazier than a hacked off limb here and there. Again, I can't really fault the film too much, it looks nice enough and even though it's quite long it doesn't drag, but a straight-forward Miike is simply a waste of potential, no matter how good it is.