2006 / 101m - Japan
Comedy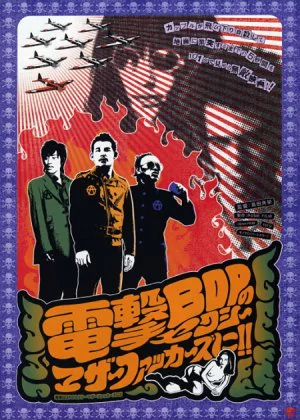 100% certified bonkers. Blitzkrieg Bop is a mix of absurd comedy and low-budget punk. It falls somewhere in between the work of Sogo Ishii and Katsuhito Ishii, which should give you a good idea of what to expect. It's certainly not for everyone, but if you can stomach Japanese comedy, there's a big chance you won't want to miss out on this one.
The plot is completely inconsequential, but there is a simple thread that stitches everything together. A young punk is approached by his ex-girlfriend. She asks him to rescue her current beau, who is being held captive by a Yakuza boss. The punk obliges, but he is mistaken for a Yakuza himself by a mysterious Yakuza hunter. It gets progressively odder from that point on.
The black and white punk aesthetic fits the film (and is perfect to hide some of its low-budget limitations), the comedy is absolutely insane, coherence is at an all-time minimum. I had a blast with this, even though it never gets quite as good as its more prominent influences. But if you love weird cinema, this is a must-see.