1947 / 104m - USA
Crime, Thriller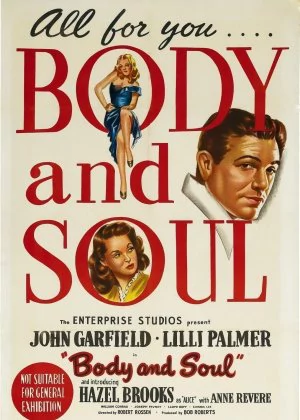 Within the film noir genre, there seems to exist a smaller niche of boxing films, which are more or less all alike. Body and Soul is a pretty good example, though it's a bit longer than the films I've seen so far. The added length works against the film, as it has nothing really original to tell.
Charley Davis becomes a boxer, not a profession his mother approves of. Davis is pretty successful in his new career, but as his fame grows, more and more shady characters try to win Davis' favor. Rather than win on talent, they try to convince Davis that throwing matches is a much easier way to get rich.
The start of the film is somewhat decent, but the plot and drama are pretty thin and don't support the length of the film. The performances aren't great either and though the black-and-white cinematography isn't too bad, quite a bit of it is lost on boring conversations. A shorter, more concise film would've been a better option.