2015 / 117m - Ireland
Romance, Drama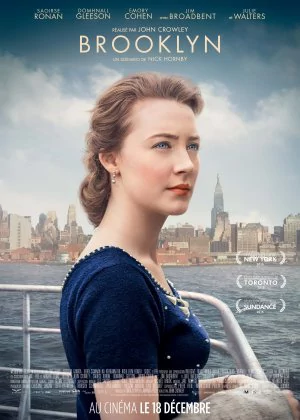 Decent drama. Brooklyn is typical Oscar material, with its glorification of the past, the US and romance. It's an easy film to love, but it's just as easy to dislike, depending on what you want from a film and how forgiving you're feeling towards its faults. Personally, I had a pleasant time with it, but I was hardly blown away.
The story revolves around a young Irish girl who sets off to America to start a new life. She gets herself an education, finds a job and marries a bloke. Disaster strikes though and she has to return to Ireland to attend a funeral. Once there, she begins to forget the life she had built for herself in the US.
The tone is light, the drama is decent and Ronan's performance is strong. Her character's somewhat shady and even a little unlikable though, strangely enough the film doesn't really acknowledge that and pretends this is just a sweet little romance. It didn't really bother me that much, but it is quite remarkable. As for the presentation, it's pretty polished and slick, but hardly attractive. All in all a sold film, though not enough that jumped out for me.