1988 / 108m - USA
Romance, Sport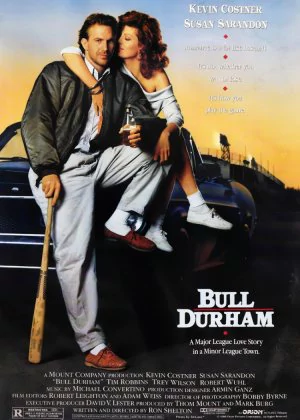 An American baseball classic. I'm not quite sure where this film got its reputation, but somehow this film stood out some 35 years ago. Maybe it was the cast of famous actors, maybe people were really digging sports romances back then, but whatever it was, none of it survived the test of time.
Crash is a veteran baseball player who moves to the Durham Bulls to mentor younger talent. He's assigned to Nuke Laloosh, a young and talented baseball player, who rather chases women than commit to his sport. Crash and Laloosh don't really get along too well, but he won't just give up on the guy.
The romance is terrible, the plot is extremely predictable and the baseball scenes are pretty damn dull. It's a bland and cheesy sports flick with a cast that doesn't excel, and a runtime that never warrants getting close to the 2-hour mark. One of those films I'll have forgotten all about the next day, and in this case, that's probably a good thing.