Kyarakutâ
2021 / 125m - Japan
Thriller, Crime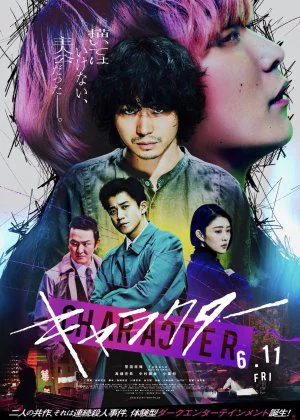 A considerably darker film from Akira Nagai. He does pretty well with it, but Character does lack that extra bit of edge to make it a real stand-out. It's a bit too formulaic maybe, and the short injections of horror aren't quite enough to lift it above the rest. Neither are the few twists at the end.
A young manga artist wants to go independent. He's very skilled, but he just isn't good at creating compelling characters. That changes when his boss sends him out on a mission, and he is accidentally witness to a gruesome murder. That gives him the power to finally draw a successful manga.
The cinematography looks slick, the actors do a solid job and the pacing is perfect. But the second half isn't really that special, and it feels like I'd seen all the twists before. It's not a bad film, certain if you like this type of gruesome serial killer thrillers. I was hoping for just that little extra, and that wasn't really here.