2022 / 97m - USA
Animation, Adventure, Comedy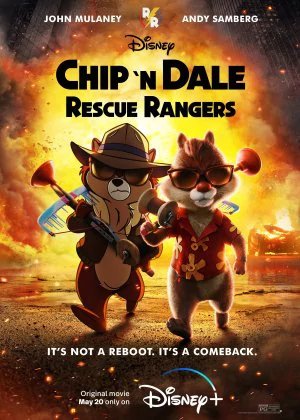 Disney resurrecting Chip 'n Dale: Rescue Rangers doesn't sound all that exciting, but they made a real effort with this one. In the hands of the Lonely Island gang the result is a film full of gags and references that reach well beyond the Disney stable, keeping the pace high from start to finish.
After the success of Rescue Rangers, Chip and Dale split up when they try to go solo. Years later they meet up when Monterey Jack contacts them. He's being chased by a gang who wants to bootleg him. Chip and Dale don't immediately believe him, but when they get the message that Monterey is kidnapped, they decide to work together one last time.
The mix of animation styles is pretty cool, there are some fun gags (about as many hits as misses, but when the jokes come this fast, it doesn't matter that much) and the film keeps up the mad pace. It could've been a little edgier and the plot's a bit lazy, but I had a pretty good time, certainly better than expected.